Bedroom Decorating – What Is a Bedscape?
FTC Disclosure - This post contains affiliate links and I will be compensated if you make a purchase after clicking on my links.
*Item received for free for promotional consideration or a sponsored link.
You may be familiar with the term tablescape, but what about a bedscape?
Both of these concepts borrow from the artistic term landscape.  This word is most commonly used to refer to a painting or illustration.  It is the composition of a scene that includes an arrangement of elements in the background, mid-ground, and foreground positions.
The same is true for a tablescape.  It is the composition of a scene, in this case, a table setting, in a similar fashion.
But, what type of composition is needed to create a bedscape?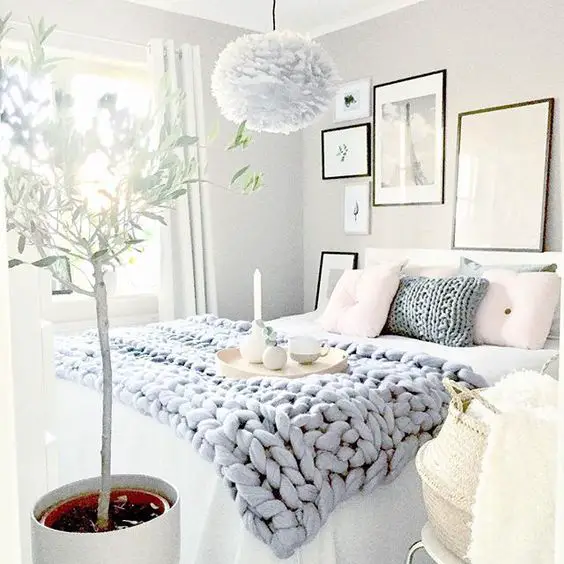 What Is a Bedscape?
Although the term "bedscape" has yet to be formally defined in Webster's Dictionary, it has come to mean the arrangement of the adornment of one's bedding.
This includes, but is not limited to the pillows, blankets, duvets, comforters, and their coordination with their immediate surroundings (i.e. nightstands, wall decor, and rugs).
Now, Instagram and HGTV are filled with staged homes featuring elaborately decorated rooms.  The bedrooms are no exception.  But, are they practical for everyday life?  Do people really do this each morning?
There is no denying the importance of a made bed.  It sets you up for the day and makes a tremendous difference in how your bedroom looks and feels overall.
But, a bedscape is something more than just a made bed.  Let's examine why one would create a bedscape.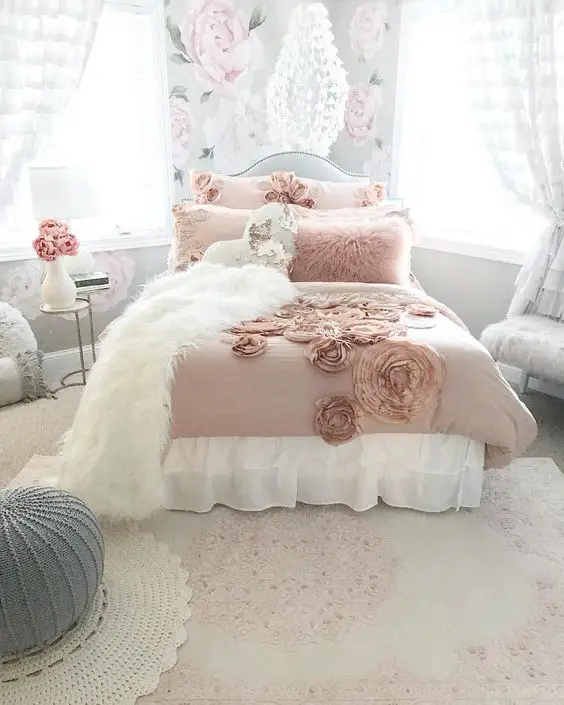 Do I Need a Bedsacpe?
Frankly, like the majority of home decorations, you don't need them.  They're simply nice to have.  They are for enjoyment, comfort, and are an expression of our personalities.
Bedscapes aren't needed any more than tablescapes, but they sure are fun to look at and experience.
It is that experience that sets a bedscape apart from a made bed.  You are developing a scene with your bedding that will evoke a particular mood and direct activity.
If you like to walk into your bedroom each day and see something that wows you and puts a smile on your face; this is something you may want to try.
However, you will need to dedicate a chunk of time to creating and recreating this setting each day.  If you're good with that, here's how you do it.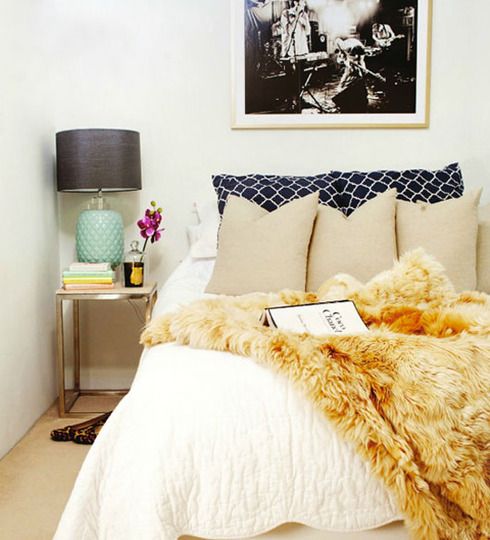 How To Create a Bedscape
1. The Background (aka Bed Prep)
Start with your bed fully stripped to the mattress.  Then, add your mattress protector.  If you don't have one, I highly recommend picking one up.
Place your fitted sheet next and then add your bed skirt.
Note: I know bed skirts are not a popular item at the moment since the onslaught of platform beds, but I'm adding this step in for posterity's sake.  They may make a comeback someday.
If you're not using a bed skirt, go ahead and move on to your flat sheet.  Your bed prep or your background is now complete.
2. The Midground (Bed Dressing)
Here comes the duvets, quilts, or comforters layer.  You can turn your sheets down or not.  It's up to you.
Then, add your standard pillows.  These are the ones you'll sleep with at night.  Most people have one or two per person.
3. The Midground contd. (Decorative Pillows)
When creating a bedscape the goal is a plush, super soft, environment.
For this, you'll need 2 – 3 layers of decorative pillows.  Build them from the largest to the smallest in size and work from back to front.
Your first layer will most likely be two pillows that are the same size as your sleeping pillows.  For these, I recommend using the coordinating shams that came with the set.
If you don't have shams or didn't buy your bedding as a set use two or three oversized decorative pillows on this layer.  Together they should span the entire width of your bed.
Use the rule of thirds to continue to build your layers.  The next layer of pillows should be about one-third the size of the previous layer.
With your second and third (optional) layers remember to mix up your textures and patterns.  Consider embellished or beaded pillows for these layers.
4. The Foreground (Blankets)
Blankets are a must-have layer when building a bedsape.  Whether you plan to use them or not while you sleep, make sure to include one.
Consider the blanket in a bedscape like a scarf.
There are hundreds of ways to wear a scarf and they are the perfect way to take your outfit to the next level.  It can be purely decorative, like those oversized chunky knit blankets, or something more functional like a shearing or faux fur blanket.
They can also be tossed casually, or folded neatly across the lower third of the bed.  You could even layer up multiple blankets like in the example below.
5. The Foreground contd. (Final Touches)
Okay, here is what really makes a bedscape stand out from just making a bed.  Use some additional adornments to set the scene for your bed.
What do you intend to do next in your bedroom?
Do you want to come home from work and enjoy a cup of tea and surf the internet?  If so, add a tray and maybe a small snack.
Do you want to paint your nails and flip through a magazine?  If so, set it up.
Do you want to enjoy breakfast in bed or a cup of coffee after your run?  These are just a few examples, but you get my drift.  It's all about setting the scene for what you want to experience.
At the end of the day, your home shouldn't be a museum.  You should be able to use and enjoy everything.  Your bedscape may be picture perfect, but make sure you can actually enjoy it as well.
Taking a few extra minutes each day to set yourself up for the enjoyment of your bedroom is a great way to treat yourself.  In may even prove to be therapeutic.
If this seems like a bit too much for your weekdays, then just try it on the weekend for a little indulgence.
Conclusion
What do you think of bedscapes?  Would you take the time to set one up each day?
I'd love to hear your thoughts in the comments below.  If you like this post please share it with a friend.
For more content from Dianne Decor, follow us on Bloglovin'.