15 Super Cute Spring Wall Decor Ideas
FTC Disclosure - This post contains affiliate links and I will be compensated if you make a purchase after clicking on my links.
*Item received for free for promotional consideration or a sponsored link.
Are you as ready for spring as I am?  The time has come for spring home decor lines to start popping up in stores.  In fact, expect to see displays the day after Valentines if not sooner.  If you're anxious to get a head start on decorating, here are 15 spring wall decor ideas that are perfect for the new season.
Spring Wall Decor Ideas
1 – Summer Spring Hydrangea Wreath
This wreath from New England Home Accents is lovely and will take you straight through spring and into summer.
2 – Artificial Spring Flower Wreath
Another great wreath option is this whimsical pinwheel style wreath from Target.  The colors are gorgeous and would be perfect if you like that boho decor style.
3 – Holland Spring Mix I – By Carol Robinson
This gorgeous canvas print would make a stunning spring wall decor piece in any home.  The colors are perfect for the new season and the style is warm and inviting.
4 – Fleur-De-Lis Wall Mirror
This gorgeous mirror is great all year round, but it would look especially nice in the spring with its white finish and vine like borders.
5 – Adorable Forest Mosaic Acrylic Floating Wall Arts (2 Piece Set)
Take a look at this wall art set with its soothing blue and gold tones.  Both pieces together are currently listed at only $83.98 on Houzz.
This "Hello Spring" rustic sign is a great pick if you like farmhouse style decor.  It's whitewashed and aged beautifully.  This spring wall decor accent is perfectly sized to hang on a wall or place on a tabletop.
7 – Hello Spring Wood Door Hanger
This sweet sign is available on Amazon Handmade.  It has all of the elements of spring working together perfectly.  The wood, the yellow flowers, and the knotted rope to hang it on your wall are everything you need to make a statement.
8 – Spring Pink Floral Print in Gold Wood Frame
Pinks, blues, and purple make up this lovely print.  It'd go perfectly just about anywhere in your home.  There are also multiple frame styles and sizes available.
9 – Cade Rustic Wall Decor Window Barnwood Frames
If you're into that rustic, modern farmhouse look, this set of barnwood frames are perfect for spring.  They can be used as is or mounted on top of another piece of artwork.  For less than $25 you can get a set of 11 x 15.8 in frames.  That's a great deal!
10 – GIFTME 5 Coral Orange Multiple Layer Flower Metal Wall Art Decor
In an earlier post we talked about "Living Coral" being the Pantone color of the year for 2019.  If you're looking for coral accents to splash around your home or garden, this coral metal flower would be great.  It has a slight distressed look and a rich coral/orange color.  There are a few other color options and styles available under this listing as well that would make great spring decorations.
11 – The Wreath Depot Coral Tulip Front Door Wreath, 19 Inches
This may very well be the fullest tulip wreath I've ever seen.  Looking at the reviews and the customer photos, it looks like the photos in the product listing are accurate to the actual product.  This is a gorgeous wreath that would look great on a door, window, or wall.  It could easily be used all through the spring and summer as well.
12 – Junxia Spring Linen Hessian Bunting Banner
A spring banner would make a great addition to your mantle decor.  This colorful banner spells out spring in white letters with multi-colored pastel flags.
13 – Garden Themed Sunflower Welcome Sign
For a nice change of pace from the traditional wreath, consider this sunflower welcome wall plaque.  It's metal so it can be hung indoors or in a garden.  If you like that vintage french country style, this would make a lovely addition to your decor.
14 – Live Butterfly Tin Wall Art
Butterflies have always been a symbol of spring and warm weather.  This 3D tin wall art piece combines the classic saying "Live For Today, Dream of Tomorrow" with a series of fluttering butterflies.  It's a great accent piece with muted tones.
15 – Spring is Here Chalk Sign
This chalk sign is another nice wall art piece.  It's interesting because it's made of wood, but the illustration is done in chalk.  One can only assume it has some type of matte sealant over it to protect the drawing while still giving the illusion that it's been freshly sketched.  This is great for a farmhouse decor accent, or kid's room.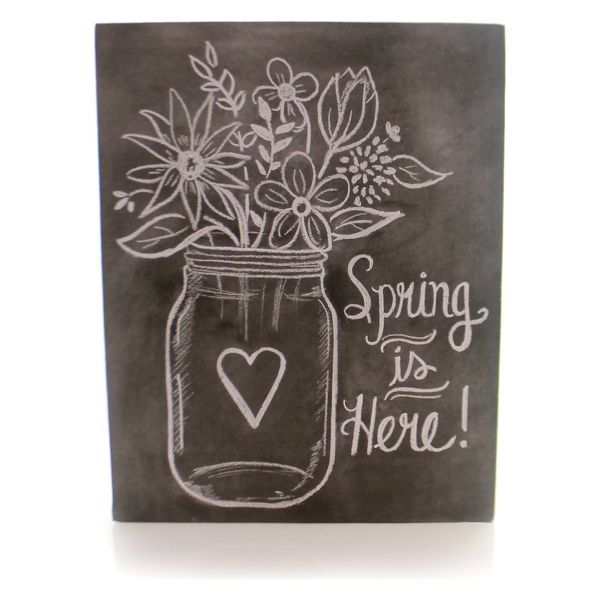 That concludes my roundup of spring wall decor.  If you liked this post please share it with a friend.  For more content from Dianne Decor follow us on Bloglovin' and Instagram.
Thanks for reading!