FTC Disclosure - This post contains affiliate links and I will be compensated if you make a purchase after clicking on my links.
*Item received for free for promotional consideration or a sponsored link.
When it comes to decorating a nursery or kids' room, always think of your design as temporary.  Your child's needs continue to evolve and their interest will change.  And, when they do, one of the ways you can transform their space is to install a new kids wallpaper pattern.
While there are lots of different ways to go about decorating your child's room, a carefully chosen, high-quality wallpaper is one of the best choices you can make.
In this post, we'll discuss the different types of wallpaper available, the most popular themes for kids, and take a look at 12 top-notch kids wallpaper patterns.  Let's get started.
Types of Kids Wallpaper
There are two types of wallpaper to choose from, traditional and removable.  Removable, or temporary wallpaper is often called "peel and stick" or "self-adhesive".  Most peel and stick wallpaper can be applied without a professional.
On the other hand, traditional wallpaper adheres to walls using paste.  For some applications, you'll need to mix the paste itself, and for others, the back of the wallpaper will already be coated with the paste.  If this is the case, you simply add water to make it tacky before adhering to your wall.
Either way, this type of paper is best installed by a professional.  This is because the paste method is more likely to lead to bubbles and wrinkles if not placed properly.
The Most Popular Room Themes For Kids
The most popular room themes for kids include animals/safari, space, construction, hot air balloons, princesses, unicorns, rainbows, and geography/world maps.
Linear patterns like chevron and herringbone are typically considered to be gender-neutral.  Overall, there has been a step away from the traditional blue and pink options towards more universally appealing neutral shades.
12 Kids Wallpaper Patterns
Outer space is a classic room idea for kids.  The planets, stars, and constellations help ignite their curiosity in the skies above them.   This space wall mural is really cool because it's a continuous scene that can be explored versus a repeating pattern.
The muted blue tone is also great and paired with grays and blacks like in the image below makes this a great choice for a gender-neutral kids bedroom.
This wallpaper is available on Etsy.com.
Here's another wallpaper mural that is a mashup of animals and geography.  This world map features animals found in different regions along with the types of trees, insects, and weather associated with each part of the world.
I love that this wallpaper is both adorable and educational at the same time.
If you're looking for something that will take you from nursery through the early toddler years, this Blue Elephant Parade kids wallpaper from The Home Depot may be a great option.
It's a simple pattern that is cutes with light tones designed to fade into the background.  You could pair this with white furniture for a light, bright, and airy room, or go bold with deep blues or grays as a contrast.
Either way, I think this wallpaper is a solid option.
Mermazing Scales is the perfect name for this wallpaper.  This vibrant wallpaper features a fun mix of blue and purple mermaid scales.  By no means would I wallpaper an entire room with this pattern.  But, it's perfect for an accent wall.
This particular wallpaper is a traditional paper, meaning it is not of the peel and stick variety.
Now here's a wallpaper that will stand the test of time.  This Black Delicate Herringbone Nursery Wallpaper would be great for any room, in my opinion.  If you haven't checked out livetteswallpaper.com, you should.
The kid's wallpaper patterns they offer are simply gorgeous.  They're refined, and many are suitable from the nursery, all the way up to pre-teens.
Another nice option for Livetteswallpaper.com is this palm leaves print below.  It has a strong boho vibe to it that is soft and relaxing.  If you like the nature-inspired look but don't want to go full jungle animals, this is a great option.
This barely-there print is a great backdrop for a kid's bedroom, guest room, or even a bathroom.
This Chasing Paper Pink Leaping Bunnies print is an adorable choice for a kid's room.  And while this has a very subtle color, I probably wouldn't use this one to cover an entire room either.
Now that I think of it, I rarely see people do that these days.  Wallpaper is usually just featured on a single wall, on the back panel of a bookcase, or above a chair rail on a wall.
In fact, if you look at the product listing for this paper on Crate and Barrel's website, you'll see that most of the applications are just that.  Partial wall or used on bookcases.
Either way, as far as kids wallpaper goes, this is a top-notch pattern.
This constellation-themed wallpaper is awesome.  While there's a lot of linear work going on with this pattern, the lines are thin and delicate.  This will stop this contrasting pattern from shouting too loud (so to speak) in a room.
Don't get me wrong, it's definitely a statement wallpaper.  But, used the right way, I think it would look spectacular.
Much like in the image below, you'll want to pair this with white or very light furniture and a light rug to compliment the look.
If your child is a lover of big trucks and construction equipment, this Construction Blueprint Paper is a fun option.  This is another traditional wallpaper, meaning you'll need paste to adhere it to the wall.
So, make sure you're willing to commit to the look before buying.
Hot air balloons are a fantastic choice for a nursery.  Since kids wallpaper patterns often feature the sky, this is a fitting option and a great alternative to the night's sky murals we often see.
The balloons paired with the clouds floating by in this pattern are darling and this is wallpaper would look great on all four walls.
This Light Green Botanical Foliage is a boho decor dream.  This is great for a nursery or a "big kid".  The colors are soothing and the pattern is delicate and airy.  I love the look of this wallpaper.
If you like this pattern, but not the colors, you do have the option of ordering custom colors from the website.  I think that's really cool and would love to see this in a peach and cream combo.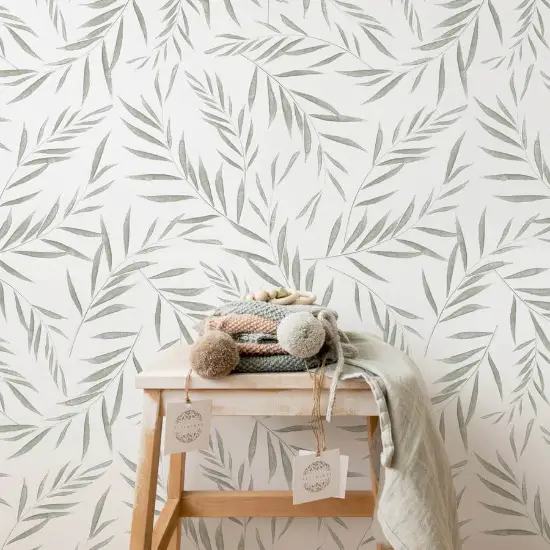 Last but not least is another galaxy-inspired wallpaper.  This one has a color scheme that is a refreshing change of pace from the traditional deep blue tones.  The orange and gray combo is a great option if you're looking for more of a gender-neutral look.
The shooting stars and planets for a great pattern that's fun and interesting to look at.
This one is removable and available at crateandbarrel.com.
Other Kids Wall Covering Options
In addition to wallpaper as a decorative accent, kids' wall coverings can include wall decals, painted patterns, or paneling.
While I think wallpaper is a great option, if you have textured walls, climate control issues, or are concerned about longevity, painted walls may be a better option for you.
If you're renting or know you'll likely change the look of the room within a year or two, I'd go for wall decals instead of putting in the time required for a full wallpaper job.
Conclusion
That's it for this post.  I hope you found it helpful.  If you did, please share it with a friend and follow Dianne Decor on Bloglovin', Instagram, Twitter, or Pinterest for more from me.
If you're looking for nursery decor options on a budget check out the post, "7 Inexpensive Nursery Decor Ideas".
To have my latest posts delivered directly to your inbox, join the mailing list before you go.  I'll send you a copy of my weekly newsletter filled with weekend reads, decorating inspiration, and the latest deals on home decor.
Thanks for reading!
Thanks for reading!
kids room
kids wallpaper
kids wallpaper patterns
room ideas
wall covering
wall decor