FTC Disclosure - This post contains affiliate links and I will be compensated if you make a purchase after clicking on my links.
*Item received for free for promotional consideration or a sponsored link.
Spring cleaning gets a lot of hype, but there are some home maintenance tasks that are best done in the summer.
Here are a few household maintenance items to work on this summer.
Summertime Home Maintenance Chore List
Window Cleaning
Cleaning your windows inside and out is a good project to tackle on a summer morning.
Of course, you can clean the inside of your windows anytime.  But, if you're going to do the outside, do the inside at the same time.  This way you can easily tell which side the grime is on.
In my opinion, spring is not the best time of year to clean the outside of your windows.  It's rainy and all of the dirt and grime that has built up throughout the fall and winter is starting to wash off of your roof.
Wait until you get a warm sunny summer day to tackle this project.  Your windows will dry quickly and you'll have plenty of light to expose any missed spots.
I use a mixture of dish soap, vinegar, and water.  But I have also heard of adding a little Jet Dry to dish soap or using the Rain-X spray to help your windows repel water for months.
Gutters
Gutters go hand in hand with windows.  Try to clean these one weekend and the windows the following weekend.  This will also help you get ready for hurricane season when you'll want them working at peak performance.
Outdoor Lights
Cleaning your outdoor lights on your porch or back patio is a good summertime chore.  You're more likely to need nice bright outdoor lighting for a summer evening spent relaxing outside.
You'd be surprised how much brighter everything appears when the outer casing of your lights is clean and bug-free.
Even more than water spots or dirt collecting on your lights, dead bugs are the biggest cause of dim outdoor lighting.  They are attracted to the light and find their way into the casing, and either die due to the heat or are unable to find their way back out.
Either way, it's a nuisance and creates a chore each summer.
If this is a task you dread like me, consider switching out your traditional light bulbs for bug bulbs to help reduce the number of insects that are attracted to your light fixture.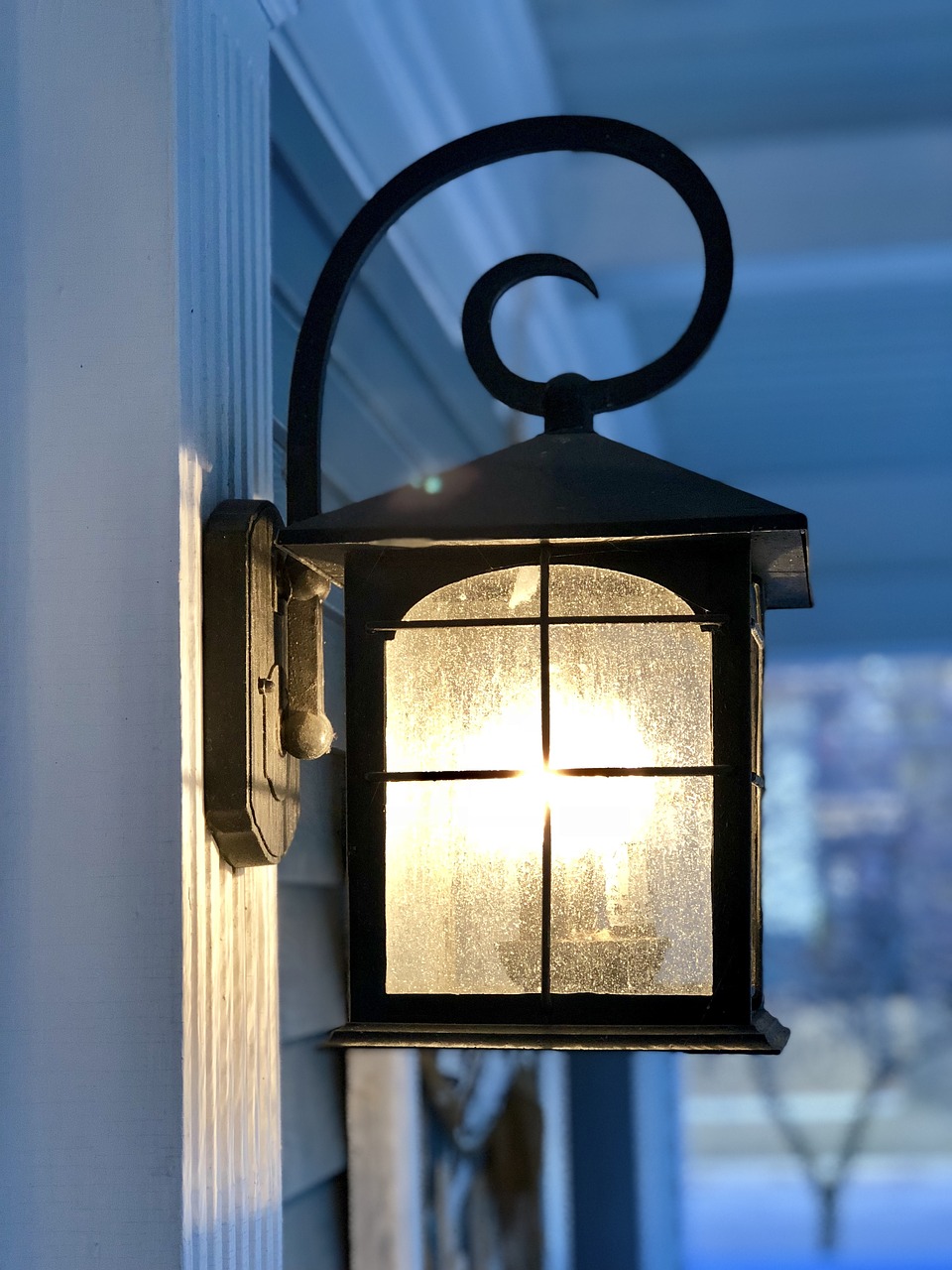 Smoke Detectors
Really, this can be done at any time of year.  But, I like to clean my smoke detectors with a vacuum and wipe them down in the summer.
Lots of dust and debris gets kicked up during spring cleaning that may settle in detectors. Particularly, if you were cleaning ceiling fans and chandeliers that are close to the ceiling.
By vacuuming your smoke detectors you help prevent false alarms.  You can also change your batteries at this time.
Doors
Along with your windows and gutters, the outside of your doors can accumulate build up over the fall and winter seasons.  Grab the hose and a bucket of warm soapy water and give them a nice wash on a warm summer day.
To bring back the shine on a painted door you can use WD40 or Endust as I used in my post "Home Decor Hack: Artificial Plant Makeover" to my thrift store faux plant.
Conclusion
What did you think of this home maintenance list?  Please comment below.  If you liked this post, share it with a friend and follow me on Bloglovin' for more content.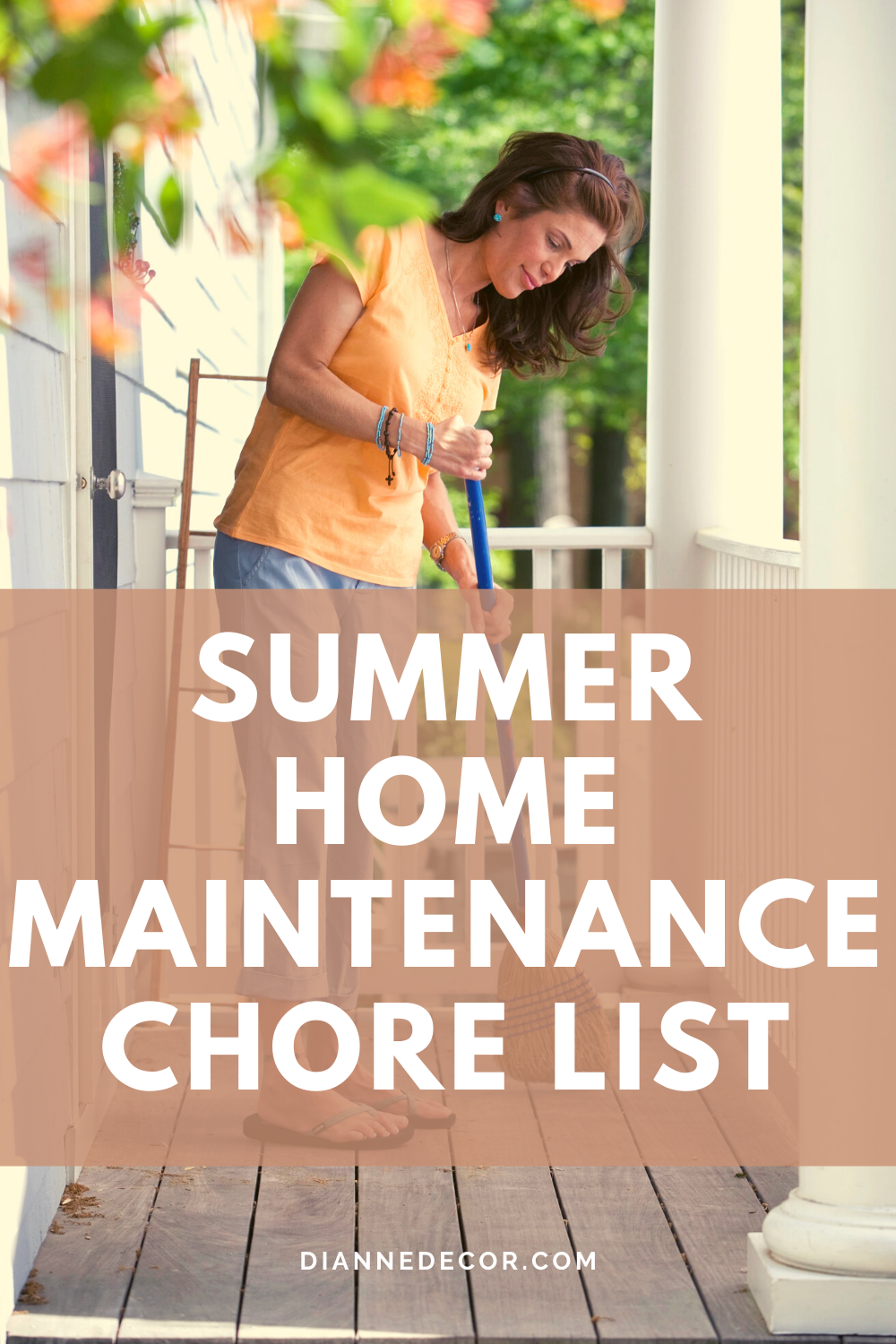 Thanks for reading!
cleaning
home maintenance
house maintenance
household maintenance
summer chores
summer home maintenance
summer maintenance