FTC Disclosure - This post contains affiliate links and I will be compensated if you make a purchase after clicking on my links.
*Item received for free for promotional consideration or a sponsored link.
Decorating a kid's bedroom is sure to bring up a lot of questions.  Moreover, inexpensive decorating ideas for kids' bedrooms can be tricky.  
You think you are doing the right thing by starting off with a neutral color scheme. 
Then as they grow older, they develop their own tastes and preferences.
That's when you hear it from the horse's mouth that the sand-colored walls have to go because they want blue with purple polka dots. 
Or that they suddenly want their favorite character's decal on the door. 
And two months from now it may be something different altogether.  Am I supposed to buy new curtains and wall decals and bedding every time my toddler gets interested in something new?
The answer is no.  Of course not. As a parent, the priority is to create a safe space for your kids. 
But, you do want to keep them engaged, comfortable, and feeling secure with their surroundings.
So, in this post, I'll be sharing inexpensive decorating ideas for kids' bedrooms that will leave your child's room looking stylish without breaking the bank. 
The Best Way to Decorate a Kid's Room
The best way to decorate a kid's room is to invest in furniture and save on accessories. 
Kids' tastes and interests change frequently as they grow.  Because of this, their rooms should be easily changeable.
Investing in furniture that will grow with them like a 4-way convertible crib will get you the biggest bang for your buck.
Inexpensive decorative accents like wall decals, small area rugs, and bedding allow you to change up the look of the room every year or two without spending a ton of money.
Select Furniture That Will Last
A convertible crib is by far the best investment I've made as a parent.  
Our Delta Children 4 in 1 crib started out as a crib, converted into a toddler bed, then a full-size bed.  
It's awesome, super sturdy, and I've converted 4 times already!
I can't imagine how much we would have spent if we'd bought just a crib, then opted for one of those cutesy Minnie Mouse or Race Car toddler beds.  
Then, two years later having to get a regular twin bed or full-size bed.
That's a lot of money. 
Moreover, I can't tell you how many of those little Mickey and Minnie Mouse toddler beds I see on the curb for trash pickup in my neighborhood.
You're better off buying a high-quality convertible crib in a neutral color like white, gray, or a wood tone.  Then spending $10 or $15 on some Disney wall decals or $30 on a themed bedding set.
11 Inexpensive Ways to Decorate a Kid's Bedroom
Here are 11 inexpensive decorating ideas for kids.  Mix and match any combination of these to build a budget-friendly room that you and your child will love.
1. Wall Decals
Wall decals are large self-adhesive stickers that come in various designs.
They are easy to install and remove. 
They work best on smooth walls, but can also be used on dressers, doors, mirrors, and toy chests. 
2. String Lights
String lights can come in a variety of bulb sizes and lengths. Fairy lights are the smaller, cuter varieties.
They're good for tents or bookshelves. 
Standard Christmas lights can also be used in decorating kids' bedrooms.
3. Area Rugs
Area rugs come in any size, shape, pattern, pile you could ever want. They are also accessible at any budget. 
I spent all of $5 on a faux shag area rug for my daughter's room.  She absolutely loves it and 3 years later it's still going strong.
Rugs are the perfect affordable accent to add warmth and texture to a bedroom or create a cozy corner. 
4. Curtains
Curtains not only frame your windows and add decor to your walls, but they also help temper harsh lighting spilling in from the windows and provide privacy.
Much like rugs, curtains come in a variety of designs for any budget. Ikea, Walmart, Big Lots, and Target are great places to pick up inexpensive curtain panels.
5. Bedding
Children's bedding is just adorable.  There are so many colors and themes to choose from.
Ideally, you want to coordinate your bedding with the overall color scheme of your room.  But don't be surprised if your child has opinions about their bedding sooner than you'd expect. 
While I had visions of a cute gray, white, and pink room for my 3-year-old.  She was pretty insistent on a bright blue and orange lion-themed comforter set. 
She'd refused all subtle print options and wanted the brightest, most obnoxious colors and I gave in. 
Luckily kid's bedding sets are inexpensive and I'm sure we'll update them within a year. 
Just remember, no matter what designs they choose, the underlying factor is to ensure that the bedding they have is comfortable and can hold up through lots of washes. 
6. Wall Shelves & Picture Ledges
Wall shelves are especially helpful for organizing clutter and displaying toys and photographs.
They're also affordable with most being under $20. 
For young kids, they have to be within reach to keep books and dolls accessible.
When it comes to picture frames, it is best to use ones that are made of non-breakable material such as plastic or wood. 
7. Wall Art
Just about anything can be mounted on a wall for decor.  Wall art can be anything from framed artwork to 3D decal stickers and everything in between. 
Focus on decorating an accent wall that will create a focal point for your room.  Use self-adhesive, removable wallpaper, decals, or other types of mixed media.
You don't need to be a creative person to do this.  You can buy kits with adorable garden or jungle-themed decals that you just peel and stick to create an instant accent wall that looks great.
8. Pillows
Pillows are a hot item when it comes to children's rooms. Back in the day, pillow shapes were either long, square, or round.
If you were cool you may have even had one of those pack rest pillows with arms. 
Nowadays, they come in an assortment of shapes and designs. Animal heads, pillow loungers, Happy Nappers, floor pillows, and pillow chairs are all great ways to add a little something extra to a kid's bedroom. 
9. Tents
Tents make great forts for kids, right in their own bedroom. They fire up their imaginations and come in a huge variety of shapes, sizes, and designs. 
Many even come with fairy lights now too! A generation ago, there were no ready-made tents for children's playrooms, just some clever knotting and blankets did the trick.
Now, we can easily add a special touch to our children's spaces that they will love.  Best of all, they're inexpensive with most under $50.
10. Wallpaper
Any boring wall can be played up with some added character with the help of wallpaper.
In fact, I have a whole post dedicated to wallpaper for kids' rooms here. 
When I was growing up, wallpaper was limited to botanical designs, stripes, and maybe some type of stork carrying a basket with a baby print.
But, wallpaper has come a very long way since then.  You can find prints with foiled effects, chalkboard finish, full mural-like scenes, or even print your own original design on wallpaper.
Whatever wallpaper you choose, make sure it can grow with you, or rather your child for a while because it can be a bit laborious to install.
11. Mobile & Projectors
Hanging mobiles can add a lot of character to any corner. Mobiles are great for babies and toddlers.
During this age, it is best to use ones that are soft and lightweight.
As your child gets older and moves out of a crib check out your projector options.  While they don't do much for decor during the day, at night they can make the room look downright magical. 
Top Rated Kids Bedroom Decor
Just a look at this adorable teepee is enough to pull at your heartstrings.
Just add a few pillows and maybe a rug or blanket for the floor and you have a super plush retreat for your little one. 
It is made of 100% cotton and is safe for children of all ages. The teepee also comes with a carrying case so you can transport it easily and the tent canvas and base are machine washable. 
It can also be used both indoors and outdoors. The base is waterproof to protect your floors indoors or from damp grass or ground outdoors. 
With a teepee like this, you can definitely make memories with your kids no matter what age they are. 
Did you know that butterflies represent spiritual rebirth, transformation, change, hope, and life? They are also the perfect colorful accessory for any children's bedroom. 
These butterflies come with a magnet and double-adhesive foam which allows you to stick on any wall, door, or refrigerator. You can choose from a variety of colors and the pack comes with butterflies of varying sizes.
What's more adorable than woodland creatures in a nursery?
These 6 baby animal pictures are perfect for any woodland-themed room. These watercolor illustrations can serve as a reminder for any baby as they grow up to: Be Silly, Be Wise, Be Clever, Be Kind, Be Strong, and to Be Curious. Each print is made with UV-resistant ink and acid-free, so that they may last for a long time. 
They make the perfect gifts for any baby whether it is a girl or boy.
They can be gifted for a baby shower, christening, or even a first birthday party. Cute and meaningful, this set of artwork is great for any kid's room. 
This area rug instantly adds a cozy feeling to any room.
In addition to the soft touch of the velvet pile, this rug will help dampen the sound of toys clanking against a hard floor. 
It also provides a cushioned landing for falls. It comes with a non-slip bottom and is available in several different colors.
How adorable are these little animal wall stickers?  These wall decals can be used in a bedroom or playroom. 
They can also be creatively used as height charts for children to make memories and encourage them to grow healthily. 
Best of all they're under $15 and have stellar reviews!
Let's face it.  All little kids love to be down on the ground so they can get up close and personal with their favorite toys.
Even during family movie night, our daughter prefers the floor to the sofa.
If this scenario sounds familiar to you, consider a pillow floor lounger like this one from Butterfly Craze.
I featured this in the post "How To Throw Away Pillows (The Responsible Way)" as a way to recycle your old bed pillows.
This pillow lounger is the perfect thing for the corner of a kid's bedroom that is both decorative and functional.
They can also come in handy during sleepovers and playdates.
Floating shelves are a tidy parent's dream. 
This set of 4 white picture ledge-style shelves can be used in a variety of ways.
These are the perfect way to display your child's favorite books or figurines while also giving them easy access.
If you're trying to create a quiet reading corner, these shelves are perfect to anchor that space and to encourage the habit of reading. 
Are you looking for a sprinkle of magic to bring to a little princess's room? 
This curtain from Hughapy is it! 
It's a two-layer curtain with a sheer on top and blackout on the bottom.  But that's not the cool part.  It comes with rainbow colors and has cut-out stars that let the light shine through the black-out curtain during the daytime. 
It's hard to explain but when you scroll through the pictures on Amazon you'll get it.
Imagine the feeling a little girl will have when stars spill in, all over the floor, bed, and all over the room. Wouldn't it be magical? 
These wall decals are a great way to introduce animals and their natural habitats to children. They can learn geography and familiarize themselves with the endemic species in any region with this world map. 
This colorful display is a fantastic wall decor option for a kids' room.
Space and solar systems are a popular theme for children's bedrooms. 
This set of wall decals is great for a space enthusiast, giving any little space explorer the motivation to reach for the stars. 
These decals will adhere to any smooth surface, whether it is a wall or door-as long as it is clean and flat. 
Conclusion
Creating a safe and encouraging space for your kids doesn't have to be expensive or complicated. 
There are a lot of affordable options to decorate a nursery, bedroom, or playroom. 
For more ideas for decorating kids' bedrooms check out the posts below.
12 Kids Wallpaper Patterns & Room Ideas
7 Inexpensive Nursery Decor Ideas
I hope you found this post helpful.  If you did, please share it with a friend and follow Dianne Decor on Instagram for more from me.  
To have a copy of my latest posts delivered directly to your inbox, join the mailing list before you go.  I'll send you a copy of my weekly newsletter filled with weekend reads, decorating inspiration, and the latest deals on home decor.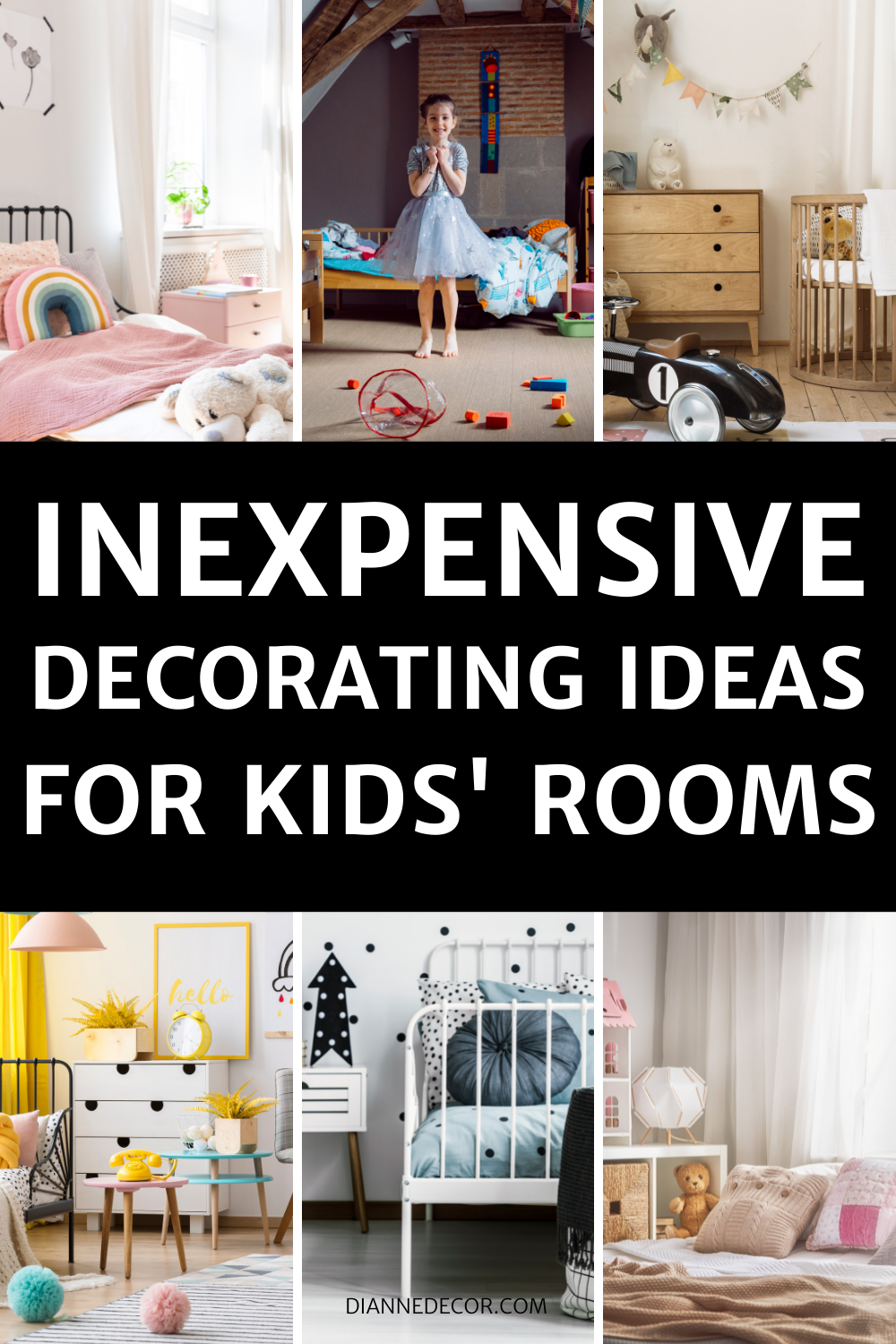 Thanks for reading!
bedroom decorating ideas
decorating ideas
inexpensive
inexpensive decorating ideas
kids room
nursery decor