How To Decorate a New Construction Home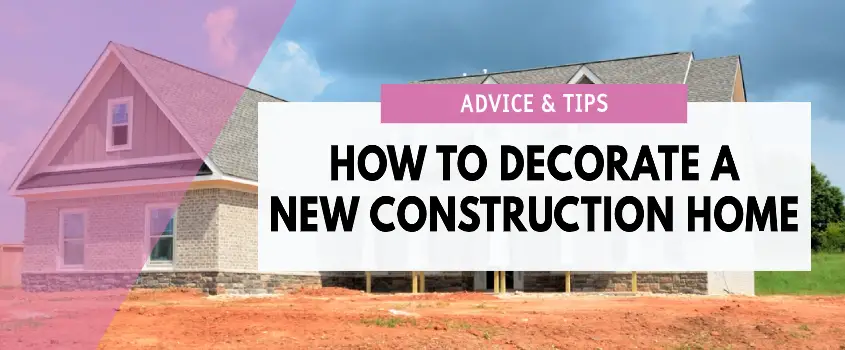 FTC Disclosure - This post contains affiliate links and I will be compensated if you make a purchase after clicking on my links.
*Item received for free for promotional consideration or a sponsored link.
A new construction home is the ultimate blank canvas for a homeowner.
You would think that any empty house would leave you stumped when it comes to decorating.  But, there are actually lots of lingering hints about how the space was previously used.
There may be nail holes where the previous owners chose to hang artwork.  Or, outlets high on the living room wall indicating where a television was once mounted.
Also, you're likely to find pre-installed shelving, supplemental lighting, and other things that give you hints as to how the space was once arranged.
A new construction home, however, is a whole different ball game.
Let's talk about the challenges you may encounter and how to decorate a new construction home.
What Is a New Construction Home?
A new construction home refers to a residential property that is built from the ground up on a plot of land.  The construction is often facilitated by a land developer and a home builder company.
When you buy a new construction home you'll likely select your overall structure from a set of floor plan options.  Then, you will visit the home builder's design center to specify certain details about the home.
These details include things like kitchen cabinet colors, countertop styles, types of hardware, interior paint colors, baseboard height, flooring, and more.
The home builder coordinates all of the subcontractors and you simply wait for the home to be built after you put your deposit down.
Once construction is complete, you then formally close on the house and take possession of the property.
Why Are New Construction Homes Hard To Decorate?
Limited Customization
When designing your new home with the design center you will likely encounter certain restrictions when it comes to the styling of the home. 
Having been through this process twice before, some of the restrictions we've encountered are as follows.
You will choose a single paint color for your walls to be used throughout your home.  You may not paint different rooms in different colors.
There are also no accent wall options, wallpaper options, or any other feature wall components such as picture lighting or wall sconces or shelves.
When choosing fixtures you will be limited to the options they provide.  The same is true for door styles and flooring.  I will go into more detail on floors in a moment.
Because of this, you will be faced with a lot of completely blank walls all in the same color.  This type of blank canvas makes your home look vast and museum-like when you step into it for the first time.
Another reason new home constructions are difficult to decorate is they rarely include built-in features.  Things like built-in bookshelves or entertainment centers are uncommon.
At most, a living room will contain a fireplace or no fireplace option.
No Window Treatments
Windows are also a huge shock for those engaging in a new home build.
Many buyers, ourselves included, opted to save money by installing window treatments ourselves.
However, when you choose this option (which I don't recommend by the way) you will be moving into a home that has no curtains, curtain rods, blinds, and no privacy.
Passers-by can looking directly into your home.
This is a mistake we made with our first new construction home.  The entire development was so new that they hadn't even finished putting up the fencing between houses.
And, there was no privacy tinting on the windows.  Talk about feeling like you're in a fishbowl!  Everyone could see everything.  Whether they were driving by on the street, or in their homes next door, they had a view directly into our home.
We spent that night dashing around trying to stay out of view of a window.  The first thing we did the next day was race out to Home Depot to buy temporary paper shades to give ourselves some privacy until our permanent blinds were delivered.
Pre-Selected Option Pool
Earlier I mentioned that there are some restrictions new home builders place on the customization options available to you.
These restrictions are put in place to prevent buyers from designing an interior that would be undesirable to future buyers.
Because the home builder will fully complete the home before you have formally purchased it, they are still at risk of you not closing on the home.
When this happens, they will need to put that home on the market for another buyer.
And so, it is in their best interest for this home to look as universally appealing as possible.
This is why we see things like limited exterior color options and flooring choices.
Much like the singular wall color options, you can only choose one style for each flooring type in your home.
What does this mean?
This means you cannot have hardwood floors in two different stains throughout your home, or tile in different styles in one bathroom versus another.
You're only allowed to have a continuous type of hard tile or carpet or wood flooring.
To me, this restriction makes a lot of sense.  Having too many flooring variations in your home creates a disjointed look that is not cohesive and tends to be undesirable for many.
Suggested Read: "3 Tips For Cohesive Interior Design"
Open Floor Plans
Open floor plans are extremely popular with new home builders.
And while this is a feature that many like because they are able to interact with family members while they're in different rooms.  It also creates a feeling of a big wide open space that is undefined.
It can be hard to tell where one room ends and another begins.
Demarcation is important for informing the user of the intended activity of a space.  Without it, areas of your home have the potential of becoming ambiguous and having their function lost.
So, when you have an open floor plan you will need to create spatial boundaries with furniture, rugs, and other home accents once you move in.  This often proves to be challenging for many.
Where To Start Decorating A New Construction Home
The living room, the entryway, and the bedrooms are the most important spaces to decorate when moving into a new home.
In general, these areas of the home take priority over others because they have the highest level of activity.
Your entryway is important to welcome guests, to function as a hub for your family, and to help organize indoor and outdoor traffic flow.
Your living room is equally as important as this is the space where you will gather most often.  It is also a space that is intended for relaxation for both you and your guests.  So, it's a good idea to prioritize this space for decoration.
The third space you'll want to tackle is your bedroom.
While you will spend considerably less time in this space than the other rooms, you'll want to have a sense of retreat and a place to relax and recharge at the end of the day.  So, it's important to make this area of your home beautiful, comfortable, and functional.
Before we move on, I wanted to include a note on the kitchen.  I did not include this in the list of areas to decorate because I view this more as an organizational project.
That being said, the kitchen is absolutely the first room I unpack when moving into a new home.  But, as far as aesthetics go, I will focus decor on the entryway, living room, and bedroom before the kitchen.
Suggested Read: "Start Decorating Your Home In 3 Easy Steps"
How To Decorate A New Construction Home
1. Walls and Windows
Start decorating your new construction home by addressing your vertical surfaces. These are your walls and your windows.
It doesn't matter how well you arrange your furniture, if your sofa and chairs are surrounded by blank walls, your home will still feel unfinished.
Instead, focus on the walls first and then the windows to help close in your space and create a warm and cozy feeling in each room.
Gallery walls, large-scale art installations, abstract wall art, wallpaper, and wall decals are all popular ways to fill your blank walls.
Start with your living room, then your entryway, and then your bedroom.
To maintain a cohesive design try to coordinate your colors throughout your home.
While you can wallpaper and paint your walls, I would recommend starting with items you can hang first.
There's less of a commitment required with this type of decoration.  It can be easily changed in the future as you get a feeling of how you like to use your space.
Also, over time you may acquire a large piece of accent furniture like a statement sofa that you want to use as a decorative focal point.
If this is the case, you may not want a feature or accent wall competing with it.
There are a lot of window treatment options including curtains, drapes, shades, Venetian blinds, and many more that can be used to dress up your vertical surfaces.
For more information on window treatments check out the post "Going Beyond Curtains: Window Treatments 101".
2. Countertops, Tables, and Shelves
Once you have addressed your walls, move on to your horizontal surfaces.
Decorate these with home accessories such as vases, decorative objects, lamps, figurines, books, in any other home accents that you like.
Start by styling your coffee table and a console table in your entryway.  Then move on to your kitchen countertops, side tables, mantle, and nightstand.
Conclusion
By prioritizing your living room, entryway, and bedroom as the first places to decorate your new home construction, you will achieve that lived-in feeling faster.
These are spaces that you will experience on a daily basis.  It is important to decorate and organize them to help make you your family and your guests feel at home.
Focus first on decorating your vertical spaces like your walls to help cozy up your space.  Install window treatments for privacy and to add texture to your room.
Then, move on to accessorizing your horizontal surfaces.  This is the best way to decorate a newly built house.
If you have any other tips for how to decorate a new construction home, please leave them in the comments below. If you found this post helpful, please share it with a friend and follow Dianne Decor on Bloglovin'.
To have my latest posts delivered directly to your inbox join the mailing list for you go.  I will send you a copy of my weekly newsletter filled with weekend reads, decorating inspiration, and the latest deals on home decor.
You can also find me on Instagram, Pinterest, and Twitter for more content.
Thanks for reading!