FTC Disclosure - This post contains affiliate links and I will be compensated if you make a purchase after clicking on my links.
*Item received for free for promotional consideration or a sponsored link.
You don't need much to decorate a bedroom and have it look amazing.  While other areas of your home may require a bit more "jewelry", you can absolutely decorate a bedroom with simple things.
The best part about decorating this room of your home is that all the elements you need can be easily found at an affordable price.
If you want to learn how to decorate your bedroom with simple things and save yourself a ton of money in the process, keep reading.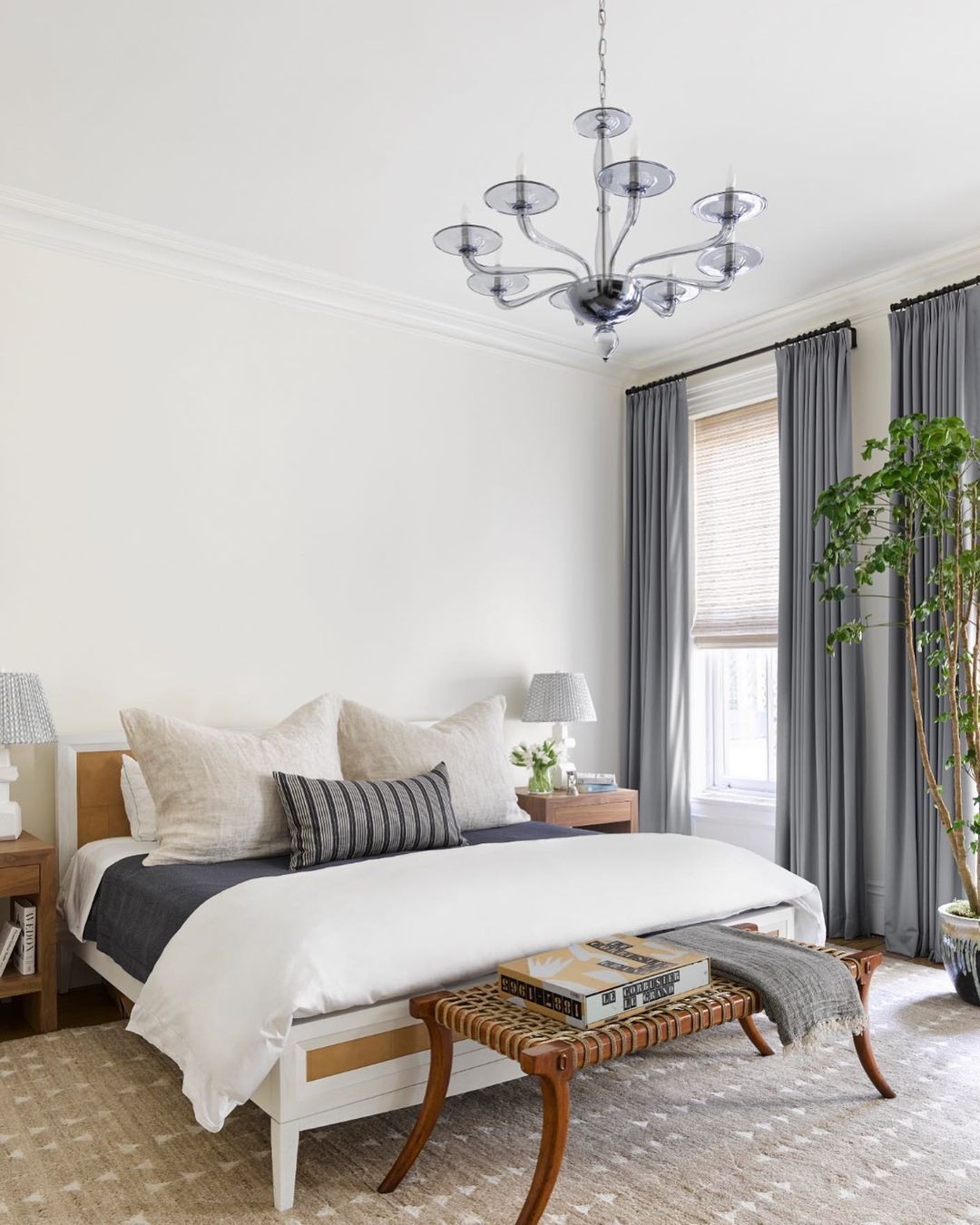 Why Decorate a Bedroom With Simple Things
There are a lot of reasons why decorating with simple items versus highly ornate or curated finds is a better route to go for your bedroom.
1. Cost Savings
First and foremost is the cost savings.  Because a bed is always the focal point of a bedroom, you can get away with having less supporting decor.
If space permits you may want to include a bookcase, armoire, or shelving units to style in your room, but these things are completely optional.
This is not true for every room in your home, however.
For instance, a living room really does require a variety of decorative accents, accessories, focal points, and the creation of spatial boundaries to look great.
2. Minimize Visual Clutter
In addition to the cost savings, decorating your bedroom with simple things will help keep the visual clutter to a minimum.
When decorating a space that is intended to be relaxing and restorative, it's a good idea to err on the side of minimalism (in my opinion).
You don't want to have too many things to stimulate your mind while in your bedroom.  It should be a place of rest and retreat.
This is why there is often a great debate over whether or not a television in a bedroom.  In our home, we do not have TVs in the bedrooms.
However, in my childhood home, there were televisions in almost every room!
Let me know where you land on this debate in the comments below.  Do you have a tv in your bedroom?
3. Reduced Maintenance
Finally, decorating your bedroom with simple things will make it easier to maintain and clean in the long run.
In general, there will be fewer surfaces to tidy, dust, or rearrange with seasonal decor.
It's also easier to update if you choose to change up your interior style or color palette.  If you only have a few simple items in your room to start with, it's easy to update or replace.
Suggested Post: The Easy Eight Method For Seasonal Decorating
How To Decorate a Bedroom With 5 Simple Things
When attempting to decorate your bedroom with simple things there are few areas that you'll want to target.  The first being your bed followed by your walls and windows.  Then, your floor and lighting.
Below I will break down the five simple items that you can use to address each one of these areas and create a beautiful cohesive space.
1. Canvas Wall Art
Decorate your walls with canvas wall art. Wall art prints come in a huge variety of styles and sizes.
I would opt for an oversized piece that takes up a lot of real estate on your wall.   Or, a set of medium to large canvas prints hung in a series.
Moreover, there easy to hang and don't require much of a skill set to install a piece of canvas art on your wall.
You can find great canvas wall art online at Wayfair, Amazon, and Great Big Canvas, to name a few.  If you prefer to shop in person for your artwork try Home Goods (and its sister stores TJ Maxx and Marshalls), Hobby Lobby, and Burlington.
Alternatively, you can use framed prints or any other type of wall art, but I'm suggesting canvas wall art because of its textural nature.
That being said, if you're decorating with an extremely limited budget, opt for a poster print and grab an inexpensive poster frame like this one from Walmart.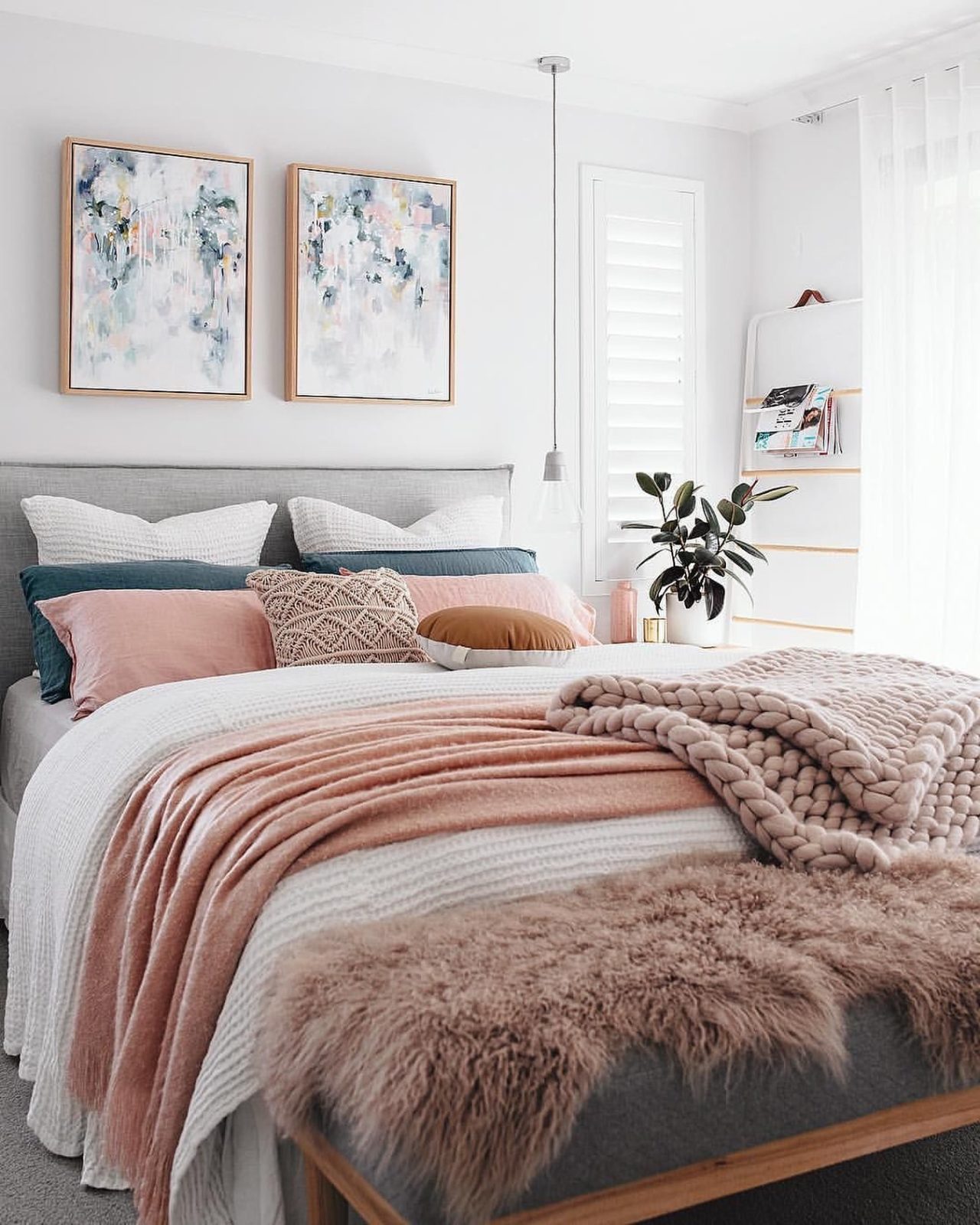 2. Area Rug
Next, use an area rug to define the space around your bed.  There are a few different placement options for area rugs in the bedroom.  Check out the post "Are Area Rugs Necessary?" for more info on placement.
In addition to the comfort and delineation an area rug brings to your space, it can be used as an opportunity to infuse even more texture and color into your bedroom.
They also give you an opportunity to reinforce your color scheme.  This is important when designing a cohesive interior.
For more easy ideas on how to bring color into your space check out the post "How to Add a Pop of Color Without Paint" from Carson Sperry at ApartmentGuide.com.
Area rugs are also an important design element that helps to create layers within a room.
Layering is not only visually appealing but also brings with it a sense of comfort and warmth.
In the same way that you may have curtains, blinds, and glass layering your windows; you can layer your floors and your bedding.
3. Curtains
Curtains are one of the simplest ways to dress up your windows.  They're relatively easy to hang, are available for every budget, and much like wall art, they're available in every shape, size, and style you can imagine.
You don't have to go overboard with window treatments.
It's fine to go super simple with a basic curtain rod and two curtain panels.  Or, you design a more elaborate display by layering sheers with heavy drapes and tiebacks, topped with a valance.  It's totally up to you.
If you have a darker room that you're hoping to brighten go for sheers.  But, if you prefer to have it pitch black while you sleep then go for blackout curtains.
Either way, curtains will help frame your windows and frame the view outside of your room.
And of course, they also provide privacy.
Because there are no limits to the types of curtains you can find for your home, use this as a chance to reinforce your interior style and color scheme.
If the things in the big box stores don't suit you, you can always find incredible designs and photography printed on curtains at places like Society6 and Redbubble.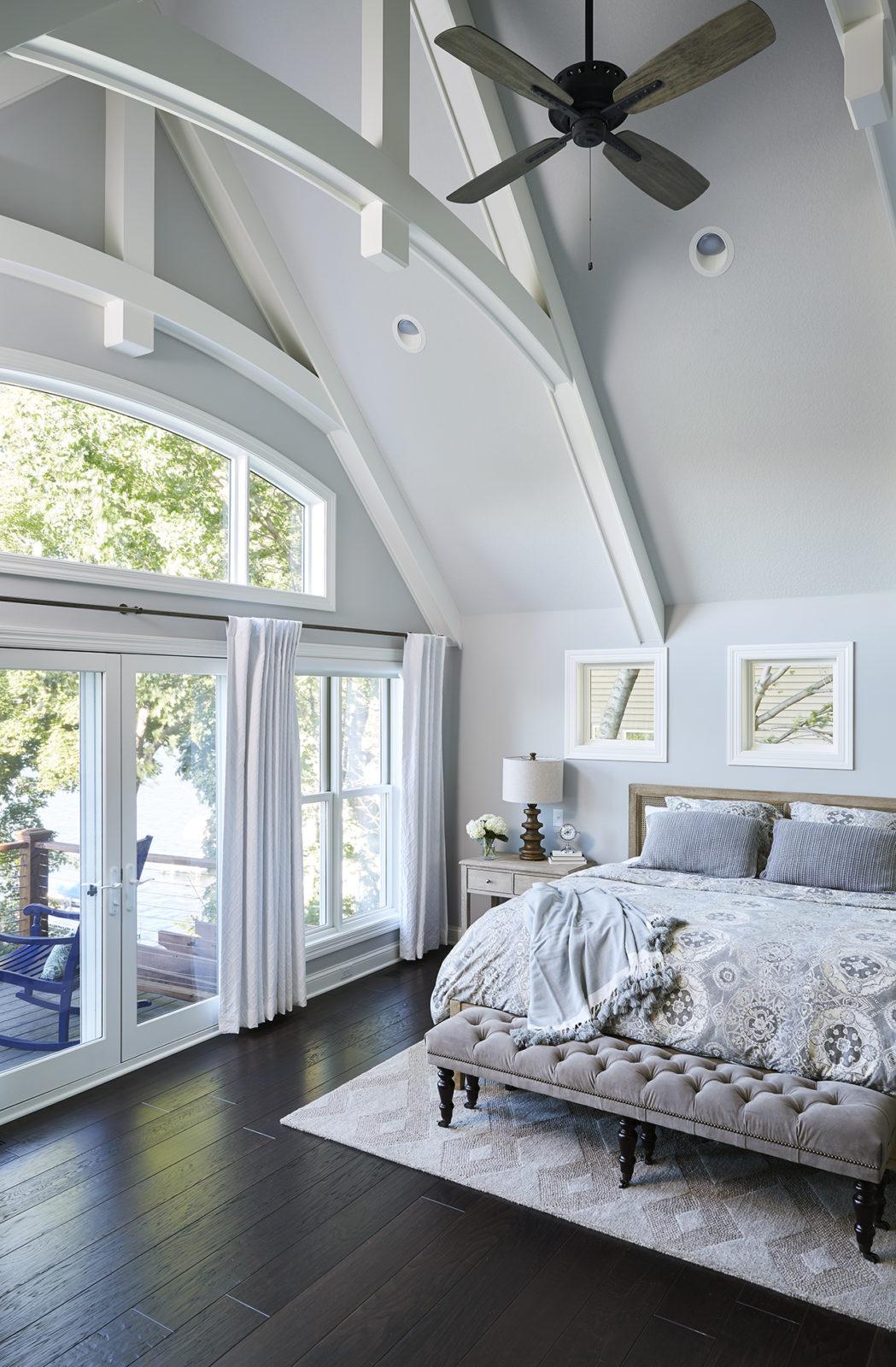 4. Bedding
While wall art, area rugs, and curtains are simple things you can use to decorate your bedroom.  By far, the easiest on this list is your bedding.
The way you dress your bed will make a huge impact on the overall look of your room.
Moreover, bedding goes a long way in a room with very little furniture.
Because the bed is the focal point bedroom, creating a beautiful bedscape is key.
You don't have to spend a lot of money to do this.  Start with an inexpensive bed in a bag as your base.
Then, add on a nice textured throw blanket, and layer up your pillows for an elegant look.
I have a whole post on how to save money on decorative pillows for more info on that subject.
My favorite method is to use pillow covers as opposed to buying traditional decorative pillows that come with the inserts.
Simply buying the cover and stuffing an old pillow inside is much more cost-effective than collecting new pillows every year or every season.
Not to mention, you'll likely end up with a storage problem for all those seasonal pillows.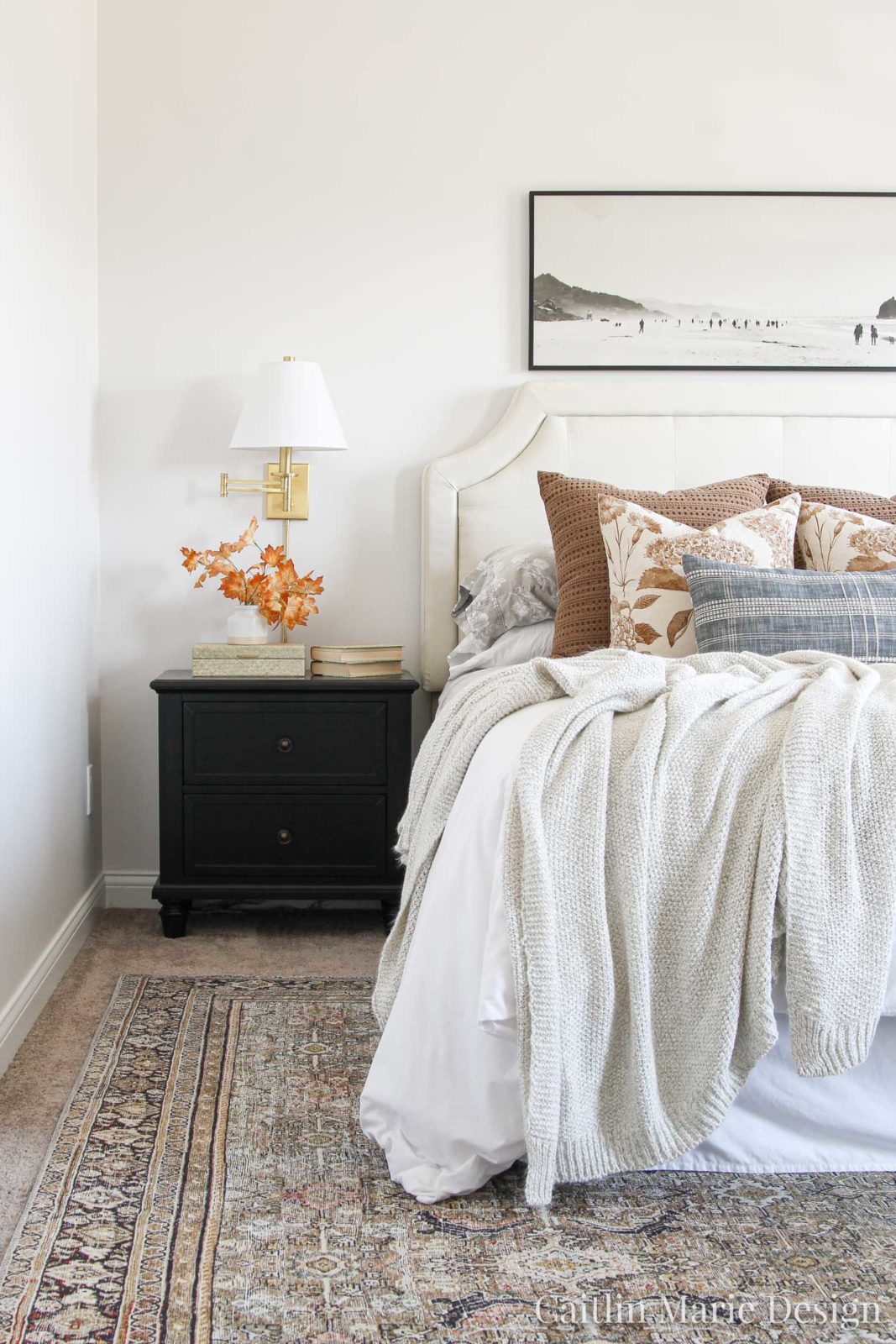 5. Lamps
Last but not least you'll want to add lighting to your bedroom in the form of lamps.
While table lamps are not your only option for lighting, they are the simplest way to add style to your bedroom.
Not just in the way they look, but in the way that they illuminate your space as well.
We all know that lighting can help create a mood in a room.  If done right and can be downright transformative.
Wall sconces are very popular right now and can be used as an alternative to traditional table lamps.  Either way, this is a simple thing that you can do to decorate your bedroom.
If you want to take things to the next level go for a chandelier.  While I don't consider them to be simple items to decorate a bedroom with, they are a beautiful addition.
Conclusion
By combining the five items listed above you can most certainly decorate any bedroom with simple items.
If you have any additional decorating ideas please share them in the comments below.
I hope you found this post helpful.  If you did please share it with a friend and follow Dianne Decor on Medium for more from me.
You can also find me on Twitter, Pinterest, and Instagram.
To have my latest post delivered directly to your inbox, join the mailing list before you go. I'll send you a copy of my Weekly Newsletter filled with weekend read decorating inspiration and the latest deals on home decor.
Thanks for reading!
bedroom
bedroom decor
bedroom decorating
budget decor
decorating on a budget
how to decorate