15 Amazing DIY Furniture Repurpose Projects
FTC Disclosure - This post contains affiliate links and I will be compensated if you make a purchase after clicking on my links.
*Item received for free for promotional consideration or a sponsored link.
DIY furniture repurpose projects are the coolest. They take do-it-yourself decorating to a whole new level.
Creative people all over the world find ways to upcycle old furniture and give it a new life.
In this post, I've rounded up 15 amazing DIY furniture repurpose projects.  Let's take a look.
15 Amazing DIY Furniture Repurpose Projects
1. Sand Play Desk
I found this project on uniquecreationsbyanita.com.   For this unique creation, Anita has created a sandbox table inside of an old executive desk.
This is genius!  Not only does it give your kids a place to play with sand, but the fact that it's elevated means adults can play along without breaking their backs.
You're also more likely to keep bugs and other insects out of the sandbox by giving it a place off the ground that can be covered. Never in my wildest dreams would I have thought to do this with an old desk.
It's such a cool project!
2. Dresser Drawer Wall Cabinet
This project from myrepurposedlife.com transforms two old dresser drawers into a creative wall cabinet.
Not only were they able to use the larger drawer as the overall framework for the wall hanging cabinet, but they were also able to reuse the smaller drawer as well.
With a fresh coat of paint and new, trendy matte black hardware, these two little drawers have found a new life.
3. Farmhouse Nightstands
The next project I found was a set of modern farmhouse style nightstands.  They were originally two ends of a huge executive-style desk.
Each end has been cut off and preserved.   A fourth leg was added to each to allow them to on their own.  Then, the top surface of the nightstands were restained and the bottom portions been chalk painted white.
You can see more details about this project on arayofsunlight.com.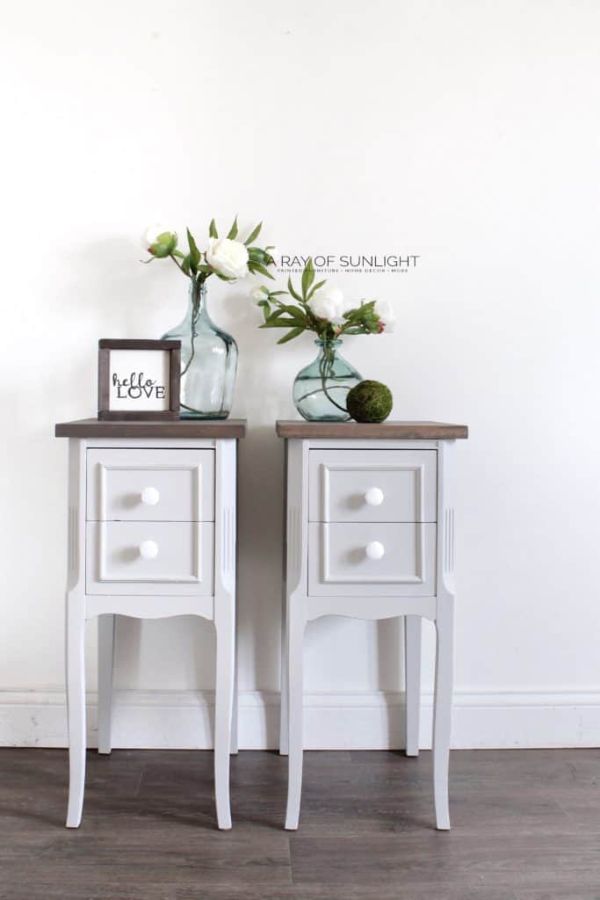 4. Dresser Drawer to Coffee Table Tray
Here's a potential modern farmhouse style project that may interest you.  I say potential because this is actually a manufactured product on sale at Gardeners.com.  That being said, this would make an easy DIY, in my opinion.
This is essentially an upcycled dresser drawer that has been turned into an adorable coffee table tray.
They've even added little mini casters at the bottom of the drawer to allow it to roll around easily on its surface.
This reimagined tray is styled beautifully as is with a collection of succulents and other foliage.  However, I could easily see this being used to hold an arrangement of scented candles, home accessories, vases, or even used to serve appetizers.
5. Thrift Store Storage Basket Dresser
If you're looking to repurpose a larger item like a full dresser, you can do so using this trick from a thrift store repurpose project.
If you see a piece of furniture like this that is missing a drawer or two, don't let that stop you from getting an amazing deal.
As an alternative to traditional drawers, storage baskets can be substituted just as they have here.  This will allow you to repurpose that old dresser and use it to organize toys, clothes, and more.
6. Kitchen Cart DIY
If you're looking for ideas for how to transform a piece of furniture, the DIY Network shows are a great place to start.  They feature some incredible transformations on their shows.
This dresser turned kitchen cart is no exception.
The addition of the towel bar, new feet, and new drawer hardware makes this a really gorgeous piece.  Not to mention the gorgeous blue color.
This would be perfect for someone that's trying to create a kitchen island or just need a little extra storage space in the kitchen.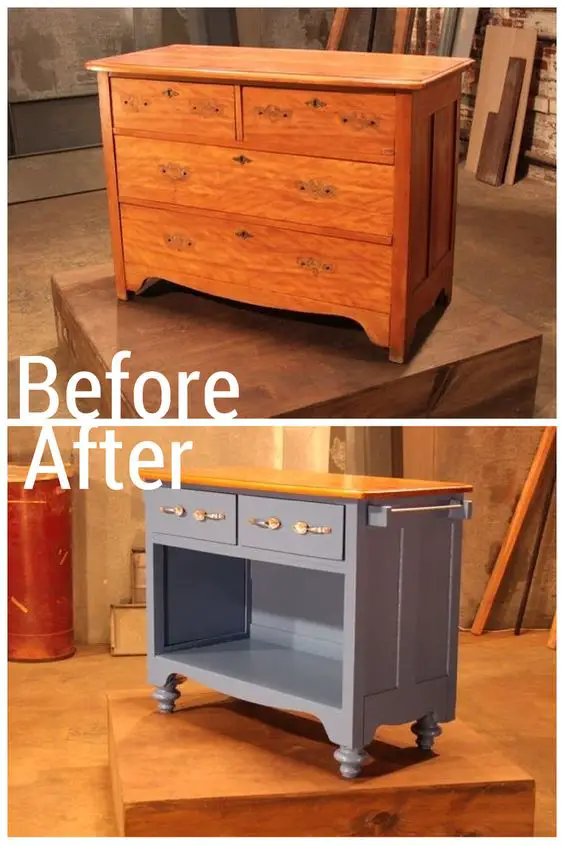 7. Coffee Table to Storage Bench
Now, this next project was already a really interesting piece to look at before it was DIY into a new purpose.
It was an old coffee table with a lot of great detailing. It has since been upcycled into a bench by adding a foam cushion and upholstering it with a really lovely patterned fabric.
The base was chalk painted and distressed to give it that modern farmhouse vibe.  And, to top it all off, matte black spray paint was used to refinish the original hardware.
The fact that this was originally solid wood makes it a great base for extra seating.  For more details on this project check it out at laurakleberhome.com.
8. Door Picture Frame
A popular item to repurpose is a door.  They offer a lot of possibilities.  In this project, the DIYer has converted an old door into an amazing multi-panel picture frame.
They added a little more distressing to the finish and used tape to secure the photos into their slots.
The finished product is truly amazing. Who would have thought such simple changes could create a wonderful piece of wall decor like this.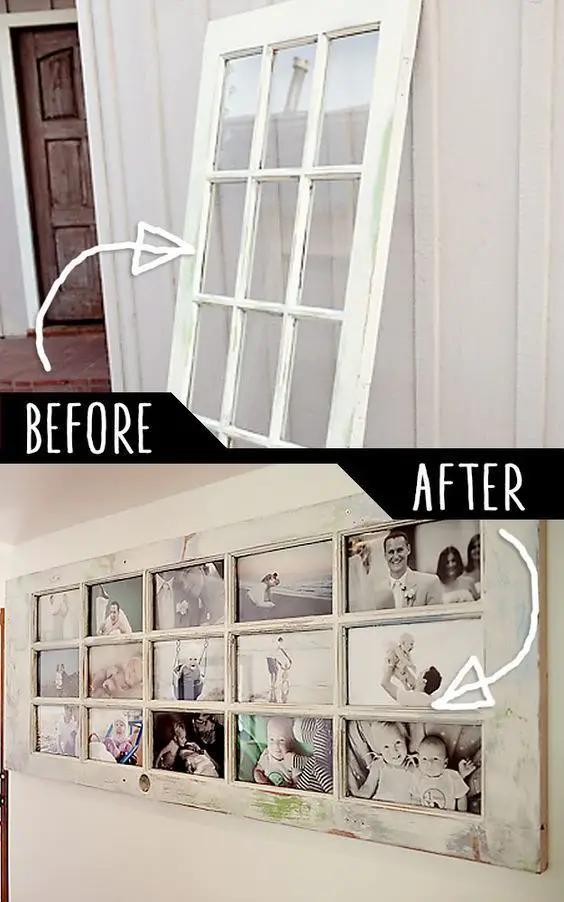 9. Metal Cabinet Transformation
Plain metal office filing cabinets can be a real eyesore.  They're utilitarian and rarely come with any type of decorative style.
But with this repurposing project the flea market flippers have added some molding to the drawers.  It's a simple touch, but it makes a huge impact.
They've also switched out the original handle hardware for something a little sleeker.  The cabinet was a new paint job, giving it a fresh contemporary color scheme.
Looking at this without seeing the before picture, I would assume it was a wood dresser.  I never would have known that this is metal.
This type of visual transformation is great because more often than not your home will feature wood over metal. Although, there are some exceptions to the rule such as the modern industrial decor style.
But, for the most part, most of us are looking to coordinate with other wood or upholstered pieces in our homes.
A simple color change and addition of molding can transform the look of one material into another.  It's things like this that make DIY project awesome.
10. Dresser to At-Home Bar
This bedroom dresser got a major upgrade by being transformed into a bar.
I've seen this type of project a few times on Pinterest and the results are always amazing.  This DIYer took their home bar to the next level by taking the time to install the wine glass holders at the top.
They also added some lighting inside the unit which really makes it a showpiece.  Bravo!
11. Nightstand to Game Table
If you're looking for creative DIY furniture repurpose projects for a kid's room, this checkerboard table is a great idea.
All you really need is a little paint, a straight edge to grid out your checker pattern, and some patience.
I love the fact that they've left the dresser drawer intact.  This makes it a great space to store game pieces not only for the checkerboard but things like cards and other tabletop games.
12. Armoire to Beverage Station
Another really elaborate DIY furniture repurpose project is this bar that has been made from an old armoire.
Now, this is a big project but the results are amazing.  Not only have they taken the time to add a holder for glasses, but they've added extra storage at the top of the unit as well.
Gorgeous lights have been installed and a cute little chalkboard has been placed on the back wall to write a fun message or possibly your signature drink for your party.
There are hooks on one side where you can hang utensils or bar tools and there's a towel ring on the left-hand side that just makes perfect sense.
With all that said, the show-stopping feature of this to me is that wood panel backdrop.  This can be done with real wood paneling or contact paper to give your projects a statement look.
If you love this as I do, you can actually buy something very similar on Etsy.  This custom armoire bar cabinet is on sale for $1750.
13. Refrigerator Repurpose
Another big project that is totally worth the effort is this old refrigerator repurpose project.
Essentially, they've trimmed the entire refrigerator in wood to give it a really gorgeous look.  It's being used in an alternative orientation as a part of an outdoor kitchen.  However, it still fully functions as a fridge and freezer.
This is a great way to keep drinks cold or ice frozen while entertaining in your backyard. I never would have thought to do this in a million years.  It's a very cool project.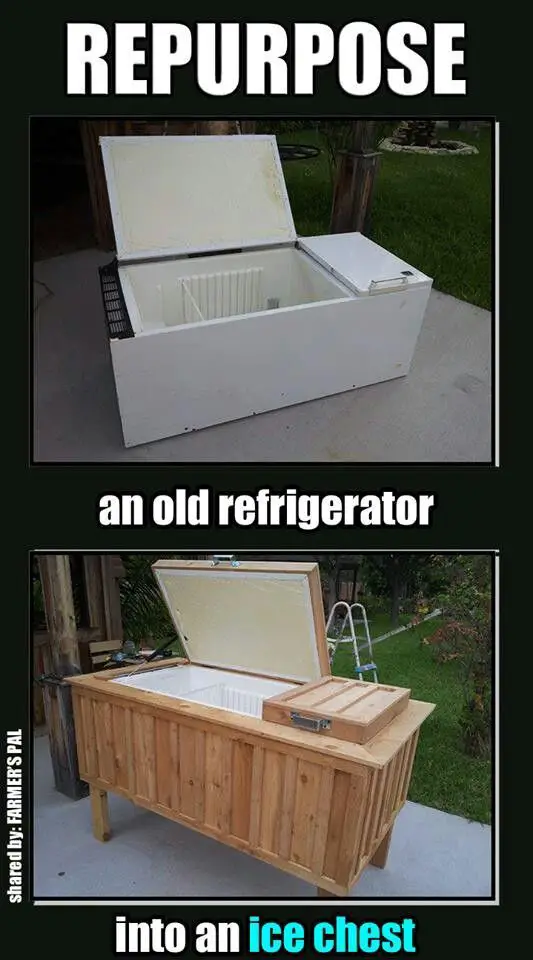 14. Buffet to Kitchen Island
Another cool kitchen island project is this rustic buffet turned kitchen island.  A new top for the kitchen island has been added that extends out into a full table.
Hooks for towels have also been added in addition to the chicken wire detailing on the lower doors.  This gives the upcycled kitchen island a really rustic farmhouse look.
You can find more details about this project on hometalk.com.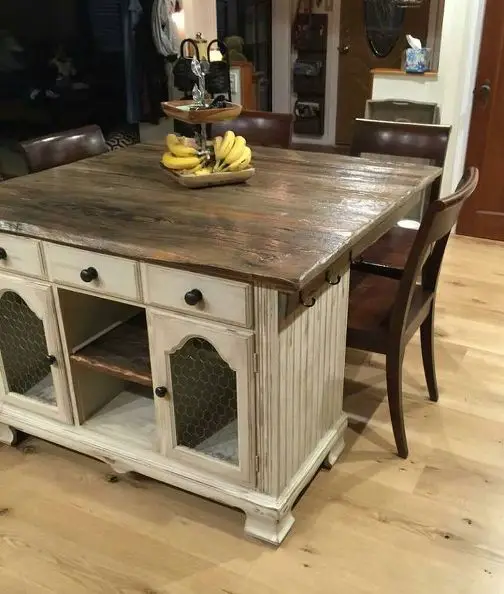 15. Changing Table Bar Cart
The last DIY furniture repurpose project I found was this changing table turned bar cart.
This is another project that I've seen floating around Pinterest quite a bit.  I've seen changing tables turned into bar carts and coffee bars alike.
I have plans to convert my daughter's old changing table into a grill cart for our barbeque area in the backyard.  It won't be nearly as cool as that refrigerator repurpose we saw earlier in this list,  but I think it will be incredibly helpful for us none the less.
I'll detail the project and leave a link here when I complete the project.
Conclusion
Have you tackled any DIY furniture repurpose projects recently?  I'd love to hear about it.  Let me know your experience in the comments below.
If you enjoyed this post please share it with a friend and follow Dianne Decor on Bloglovin' for more content.
You can also find me on Instagram, Twitter, and Pinterest.
To have my latest post delivered directly to your inbox, join the mailing list before you go.  I'll send you a copy of my weekly newsletter filled with weekend reads, decorating inspiration, and the latest home decor deals of the week.