FTC Disclosure - This post contains affiliate links and I will be compensated if you make a purchase after clicking on my links.
*Item received for free for promotional consideration or a sponsored link.
When you're trying to decorate on a budget, knowing what to buy and when is invaluable.  Retailers typically follow a predictable annual sales calendar.  They promote and discount the same types of items at the same time each year.  This is great to know if you're trying to save money on decorating your home.
In this post, we'll discuss the two big sales categories you'll see in February and what items will be at the deepest discounts so you can score big on home goods.
Sales in the month of February can be broken into two categories.  Those being pre-Super Bowl sales and those coming after. With the big game traditionally held on the first Sunday in February, you don't have long to snag those pre-game deals.  So, let's cut to the chase and talk about where to go and what to buy.
Pre-Super Bowl Sales
Anything related to home entertaining will be discounted in most stores the week leading up to Super Bowl Sunday.  Typically, consumer guides will tell you to buy a television in February.  And, while this is a good recommendation, there are a lot of other things that fall under the category of home entertaining.
Think serveware, barware, small kitchen appliances like air fryers, tableware, even furniture.  This year Pier1 had a "Game Day Ready" sale going on where they were offering 30% off serware, drinkware, and bar accessories.
Alternatively, Wayfair is focusing its big sale on furniture.  They're featuring up to 65% off Living Room Seating through February 19th.
Walmart and Target are go-to places for small appliances this month.  Air fryers, Insta Pots, slow cookers, and tabletop grills are all on sale at both retailers.
What to Buy After the Super Bowl
Once game day has passed things will quickly shift into new arrivals for Spring and Valentine's decor.  At this point, winter decor will either be found in clearance or be gone altogether.
The biggest sales in February will be seen around President's Day.  This mid-month holiday is notorious for mattress and furniture sales.  This means, anything bedroom or living room furniture adjacent will likely be on sale as well.  Think lamps, end tables, vases, and wall decor.
A good site to check out at this time is Ashley Homestore.  They have high-quality home accents that are usually a bit pricey, but you can snag an amazing deal on home accents right now.  This Machi Paris Large Vase is on sale for $78.99 from $174.99.
If you're looking to score some winter clearance deals, try your luck at Burlington.  Remember to filter the clearance by checking "for the home" or you'll be there sifting through coats forever.  The types of things you'll find in home clearance for the winter are heavy throws, white bedding, dishes and glassware, room darkening or blackout curtains, and winter-themed home fragrances.
Right now this Circle Glass Cabrini Embossed Glass 16-Piece Drinkware Set is on sale for $7.99!
I hope you found this post helpful.  If you did please share it with a friend and stay tuned for What To Buy For Your Home In March next month.  Don't forget to follow Dianne Decor on Instagram and Bloglovin' for more content.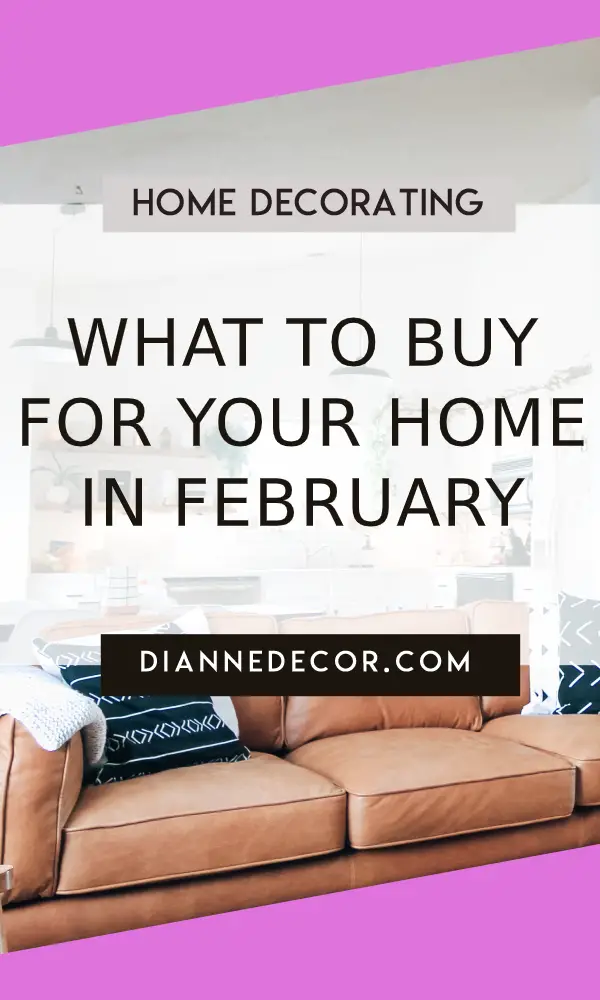 Thanks for reading!
decorating on a budget
february home decor sales
home decor sales
home sales
what to buy
what to buy february
what to buy for your home