FTC Disclosure - This post contains affiliate links and I will be compensated if you make a purchase after clicking on my links.
*Item received for free for promotional consideration or a sponsored link.
When decorating on a budget there are a few traps you'll want to avoid.  If you don't, you may end up filling your home with cheap home decor that downgrades your space and is a waste of money.  And nobody wants that.
What Makes Cheap Home Decor Look Bad?
Two of the biggest culprits making your inexpensive decor look cheap are the paint and materials.  These things are used to create less expensive imitations of natural materials like wood and metal.
They are also used to give items an aged look.  High-quality natural materials and vintage or antique items are prevalent in upscale homes.  So it's no wonder there are so many imitations floating around.
And while we all want to find inexpensive items within our budget, none of us want something that looks cheap.
In this post, we'll take a look at common traps that people fall into when trying to decorate on a budget.  Here are the things to avoid so you don't end up with cheap home decor.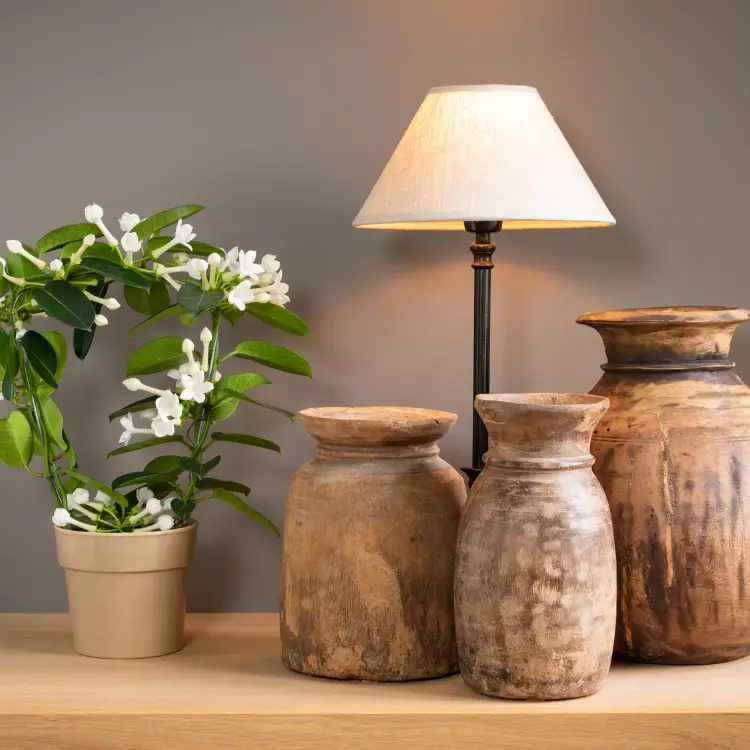 6 Cheap Home Decor Traps To Avoid
1. Steer Clear of Bad Imitations
Let's talk about cheap resin imitations.
More often than not you'll find inexpensive home accessories like elephant figurines and pots for artificial plants made from resin (plastic).
While some resin accents look just fine, others (especially those that mimic other materials) tend to look cheap.
An example of this would be a wooden horse head figurine that isn't wood at all.  Instead, it's just plastic painted to look like wood.
Try to avoid things like this.  They rarely ever fool anyone and in the end, the money you saved buying the cheap plastic version will not be worth it.
The overall look and vibe of your space may also suffer.  Items like this are as Cher would say in Clueless, a monet.
They look nice from afar or work for a quick Instagram photo, but up close, they're a big ole mess.
The faux wood grain strokes look like a child painted them and you can see the seams from the plastic cast.
Frankly, you're better off with no decorative accent than one like this.
The only exception to this rule that I can think of would be if you have a collection of items.  Like a glass case full of horses on display.
In this case, you could get away with a few cheap imitation items sprinkled throughout the collection.
TIP: How To Spot Bad Imitations While Shopping Online
So you may be wondering how to spot these cheap imitations when shopping online.
As with anything, shopping online requires a little extra effort to get a good idea about what will actually turn up in the mail.
Firstly, look at the materials the item made of and the weight.  Either one of these will let you know if you're getting cheap home decor.
If you're looking at something you assume to be wood but it only weighs an ounce instead of a pound, it's not wood.  It's probably not even composite wood.
The same is true for metals.  Decor that has a metal coating or is finished in metallic paint will be significantly less expensive than an actual metal accent.
Second, look for words in the description like "antique look" or "gold-tone".  This is code for imitation.
Last but not least, there are a few words within the product description or specifications that will let you know your item is not made from natural materials.
Words like resin, composite, acrylic, epoxy, and polyresin all refer to plastics or faux wood.
Don't get me wrong, you can certainly find home accessories made from these materials that look great.  The important part is to know what you're getting and make sure that you're not overpaying.
The last thing you want to do is think that you're getting an amazing deal for a solid wood turtle sculpture.  Then, when it arrives at your home realize it's a cheap piece of plastic made to look like it was carved from wood.
But you just paid $45 for it and it's only worth $5.
Knowing the material lingo will help you avoid these cheap home decor traps.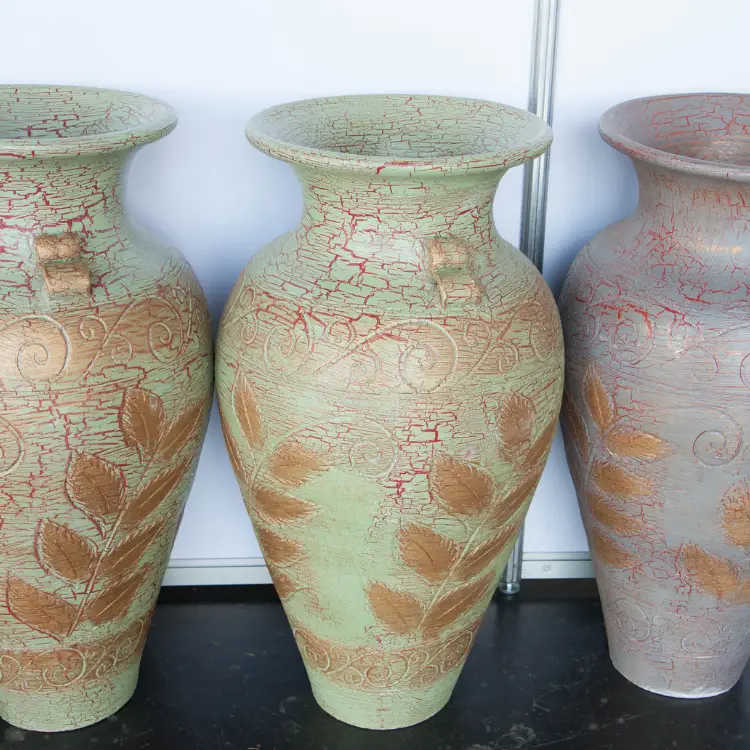 2. Antiqued Decor
At the beginning of the post, I mentioned that paint is often used to give new items the appearance of age.  You'll most often see this noted as an "antique look" in a product description.
This is the hallmark phrase for something that is made to look old vintage or antique.
More often than not, this is done with a strategic paint job.
We see a whole lot of this in modern farmhouse decor.
That whitewashed and distressed chipped paint look is very popular.  But almost none of it is authentic.  This is a faux distressing technique done with chalk paint to make something look like it's been aged.
Know what you're getting.  If you're looking at a piece of furniture under $300 the item is most likely not old or vintage or naturally aged.
Instead, it may have some faux paint distressing or antique gold paint.
Remember, this technique is not just used on wood, but metal as well.  Paint is used to create a fake patina on faux metal items as well.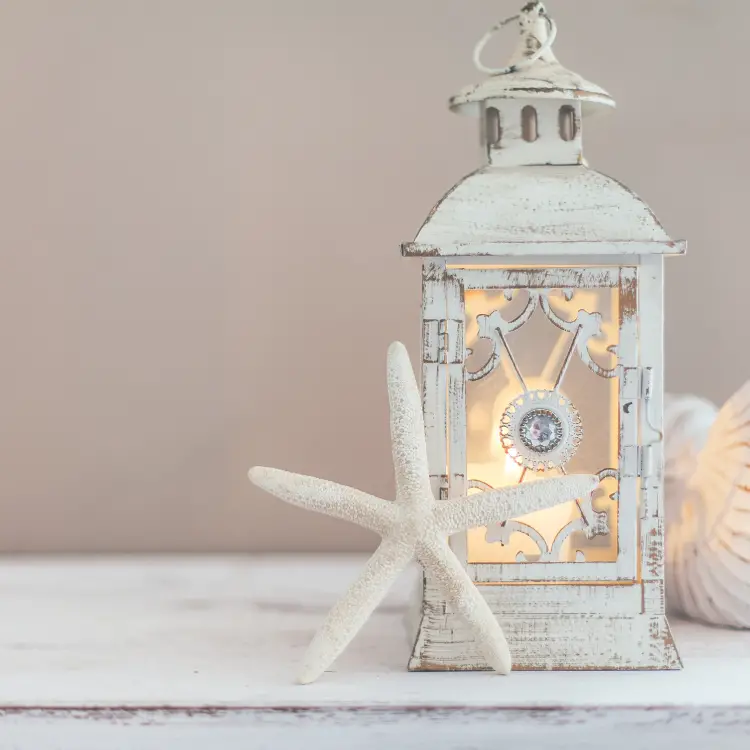 3. Plastic Rugs
I almost fell for the plastic rug trap on Amazon the other day.
I was looking for a nice outdoor rug for my patio (but wanted to pay less than $100) and I found a pattern that I really liked.
The price on it was just right and it had a high star rating.
But when I actually started to read the reviews the second one said "very expensive plastic mat".  I was shocked!  I hadn't even noticed that this was a plastic rug!
When I scrolled back up to read the description again I found it very clearly written in the title of the item "Reversible Indoor/Outdoor Plastic Rugs".
The problem is… when I'm searching for decor, I'm looking at pictures first and scanning for certain things.  I first liked the design.  Then I saw "outdoor" which was what I needed.  Then I read "reversible" which seemed really cool.  Finally, I checked the size (8′ x 10′), which was perfect, and saw the high star rating with lots of reviews.
If I were in a hurry and weren't paying attention I could have easily purchased this rug thinking it was a regular woven rug.  And it would have been my fault!
The fact that it's plastic isn't disguised, I just wasn't reading carefully.
So, when I then considered $95 for a plastic rug, it wasn't such a great deal after all.  I might have paid $50, but not $95.
Now, there's nothing wrong with a plastic rug in the right application. But if your intention is that you want something soft underfoot as I did, this is not the way to go.
Plastic rugs work great for picnics and the beach, but it's not what I want under my outdoor loveseat and club chairs.
So, when you're decorating on a budget, read everything!  Especially when it comes to rugs.
Recommended Read: Are Area Rugs Necessary?
4. Too Small Furniture
Furniture that is too small is another thing you see with inexpensive outdoor furniture.   Loveseats, chairs, and tables that are too low to the ground or not wide enough scream cheap home decor.
Make sure you check all of the dimensions when you see a deal that seems too good to be true.
The last thing you want is to bring home furniture that is not right for your space and then have to figure out how to return it.  Worse, spend 2 hours assembling a set of furniture only to find that its sub-par.
While I've purchased my fair share of furniture online, my favorite pieces and best quality pieces were purchased in-store.
If the items you see in a showroom are too expensive, inquire about returns, clearance, and floor models to get a deal.
Garage sales and second-hand shops are also great places to find high-quality furniture on a budget.
5. Low-Quality Faux Fur
Don't buy faux fur anything from stores like Dollar Tree or five below. They are made from the cheapest materials.
In the end, you'll end with matted, tangled, and scraggly-looking decor.  Probably before the week is out.
The fact of the matter is some materials should never be used to imitate fur. 
You may be able to get away with a cheap faux fur rug in a nursery or kid's room, but that's about it.
You definitely do not want cheap faux fur pillows front and center for everyone to see and feel on your sofa.
Luckily, this is something that is easy to buy online because reviewers will be quick to tell you about the look and feel of the item.
So, be sure to read the reviews before you buy faux fur and you should be good to go.
6. Canvas Prints vs Paintings
Last but not least let's talk about canvas prints vs. paintings.
If you've ever visited HomeGoods, Burlington, or TJ Maxx you know they have aisles stocked full of canvas prints.
The majority of which fall somewhere in between a print and a painting.  That's what makes him so appealing and affordable.
A plain canvas print with no embellishment looks cheap.
In fact, I'm staring at one in my home office right now.  It's flat, dull, and frankly looks stupid.  I wish we'd never bought it.
Why did we buy it?  Because it was cheap and we had a lot of blank walls.
This is a trap you do not want to fall into when buying home decor.
Canvas paintings done by hand can be quite expensive.  Canvas prints are dirt cheap and look it.
The sweet spot that you want to look for when finding canvas wall art is the hybrid painting prints.  These are prints with paint embellishments.
But essentially, these are prints on canvas that have sporadic paint strokes or other embellishments (crystals, gems, etc.) on top to give the piece texture and depth.
This type of hybrid wall art is inexpensive and looks great on your wall because it has dimension to it.  It is often mistaken for handpainted artwork.
You have to look very closely to see that there are brush strokes in some areas but not others.
TIP: How To Work With Cheap Canvas Prints
If you can't find a canvas print hybrid that you really like, another option would be a cheap canvas print in a frame and under glass.
Alternatively, a basic poster print that has been framed is a great inexpensive option.
Etsy's digital downloads are a bargain.  You can find print files from real artists for just a few dollars.
Conclusion
I hope you found these tips helpful. If you did please share this post with a friend and follow Dianne Decor on Medium for more for me.
You can also find me on Instagram, Pinterest, and Twitter.
To have my latest post delivered directly to your inbox, join the mailing list before you go.  I'll send you a copy of my Weekly Newsletter filled with weekend reads, decorating inspiration, and the latest deals on home decor.
Thanks for reading!
Thanks for reading!
affordable decor
budget friendly
cheap decor
cheap home decor
decorating on a budget
home decor
on a budget
shopping tips