19 Sensational Flush Mount Chandeliers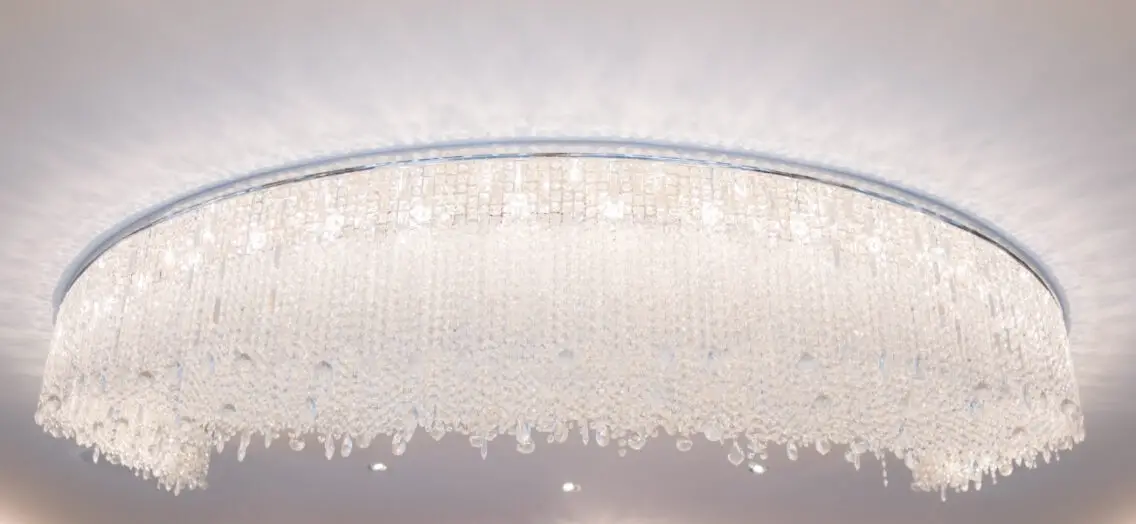 FTC Disclosure - This post contains affiliate links and I will be compensated if you make a purchase after clicking on my links.
*Item received for free for promotional consideration or a sponsored link.
No doubt, there's something dramatic and romantic about a gorgeous, traditional chandelier hanging from the ceiling.  But not every home has the bones for a hanging chandelier.
So, what's a girl to do when she wants to design a show stopping room?
Opt for the often-forgotten flush mount chandelier.
And where can one get a flush mount chandelier?
What Is a Flush Mount Chandelier?
A flush mount chandelier is a decorative lighting fixture that is mounted directly against a ceiling. 
Flush mount chandeliers either consist of multiple branches and bulbs or a singular bulb surrounded by crystals or other ornamentation.
What Is the Difference Between a Flush Mount and a Semi Flush Mount?
A flush mount fixture is installed directly against the ceiling. 
A semi-flush mount, on the other hand, hangs slightly below the ceiling, leaving a gap between the ceiling and the lights. 
Are Flush Mount Chandeliers Cheaper Than Regular Chandeliers?
Well, here's the thing. 
Flush mount chandeliers run around the same price as regular chandeliers. 
However, since hanging chandeliers are more likely to be hung from a high ceiling height, you may need to hire a professional to help you install.
The cost of the chandelier coupled with an installation fee may see you paying more for a traditional chandelier.
Should I Install a Flush Mount Chandelier or A Traditional Hanging Chandelier?
So, should you get a flush mount chandelier or a traditional hanging chandelier? 
If your ceilings are less than 8 feet, consider a flush mount chandelier that will draw the eye to the ceiling without making the space feel constricted. 
Similarly, if you like minimal, non-intrusive lighting, go for a flush mount lighting source. It is usually less noticeable because it is flush to the ceiling.
If you are trying to illuminate a broad area, flush mount lighting is better. 
Smaller, closed in areas like closets, bathrooms, and hallways are prime candidates for a flush mount chandelier.
Now, when should you choose a traditional hanging chandelier?
Chandeliers are known to infuse a bit of elegance and sophistication into a space. 
Originally a sign of wealth, these ornate light fixtures were a sign of taste and refinement.  Nowadays, prices on beautiful chandeliers have come way down with home owners finding incredible options for traditional chandeliers under $200.
When done right, they can be the talk of the room.
A traditional hanging chandelier is your best choice when: you want to establish a romantic setting or create a glamorous space. 
You can position a chandelier in a foyer, in the living room, dining room, or even in a master's bedroom or a walk-in closet.
A traditional hanging chandelier will more often than not become the decorative focal point of a room. 
20 Incredible Flush Mount Options
If you're in the market for new decorative lighting, check out some of these fantastic, affordable flush mount chandeliers.
The crystals in this flush mount chandelier are sure to create a luxurious ambiance.
This style will go well with any mid-century style or modern interior.
Both opulent and simple, the Hanna Chandelier Style Drum Flush Mount is a beautiful choice.
It would fantastic in a neutral room.
It features chrome hardware and a white woven drum shade. The cascading crystals add a glam, sophisticated look.
If you want to add a little bit of drama but don't want your light fixture commanding all of the attention in the room, this is the one to pick.
For a mix of vintage and modern lighting, the Aegina 4 Light Flush Mount Fixture is great.
This chandelier is sure to give your room a glamorous feel.
It's reflective chrome surface, intricate drum pattern, and sparkling crystals look amazing.
For a lovely elegant lighting option, this beautiful Shanay chandelier is perfect, especially for a small space.
It features an assortment of crystal beads that add to the intricate detailing. The danglingcrystal ball is set in the center surrounded by prism charm beads.
The outer layers are covered in quadrangle square and octagon beads.
All that to say, this thing is awesome!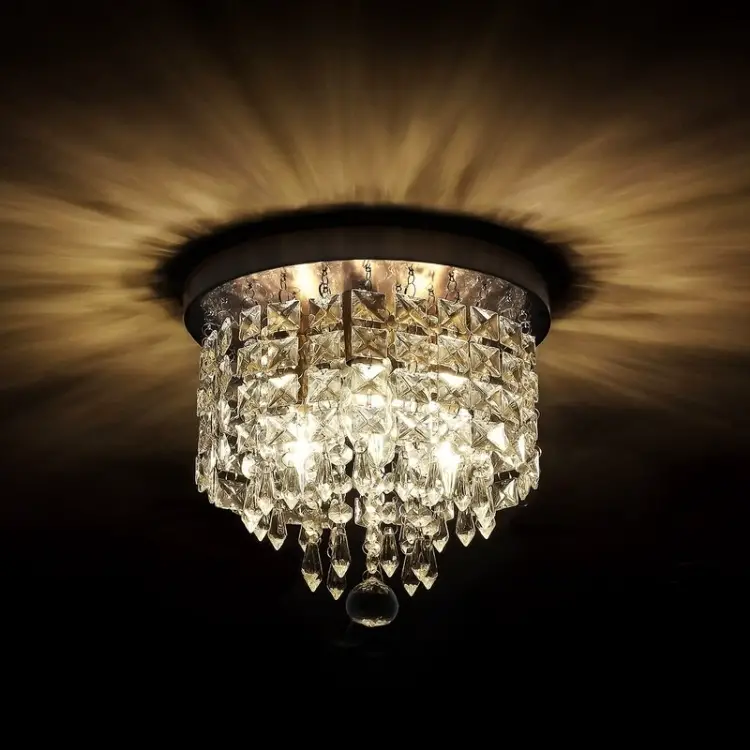 The antique copper version of the Louvenia 4 Light Flush Mount Chandelier makes quite a bold statement with its lattice patterend drum.
When illuminated, the strands of teardrop crystals peak out from underneath the outter drum.
Crystals of this shape are sure to create a glitzy, sparkly display.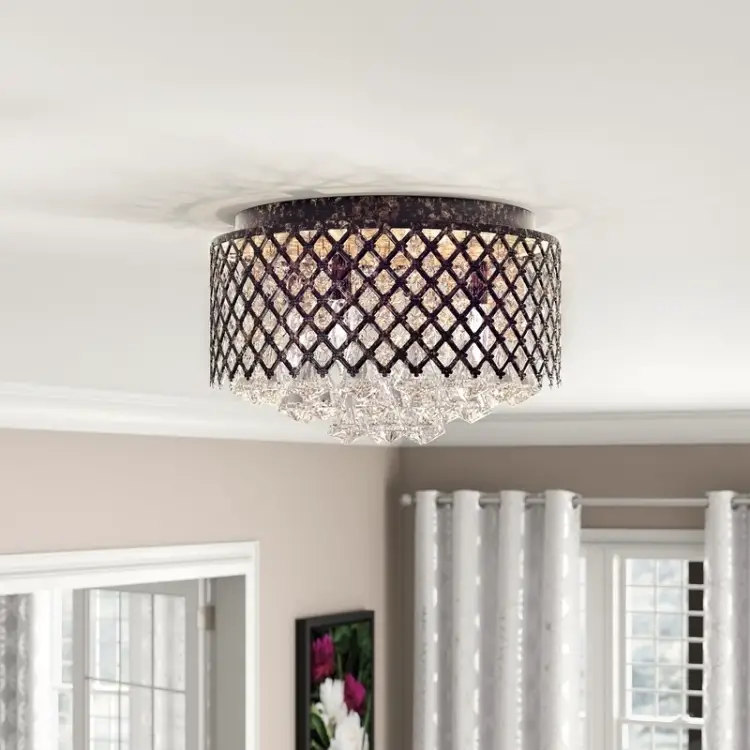 For a more compact design, the Madilynn 4 Light Chandelier fits the bill.
It has a stylish look with lots of sparkle.  This drum style flush mount, shows off an antique black finish with a touch of brown.
The crystal design helps to refract light and the dark drum makes this a great choice if you have other dark wood accents for fixtures in your home.
Flush mount lighting options aren't just limited to round designs.  The Bennett Chandelier Style Rectangle Flush Mount is a fantastic departure from the norm.
This is fantastic for low spaces and is sure to be a conversation starter for guests.
The canopy metal shade in the Morse 8 Light Chandelier Style Drum Flush Mount is simply stunning.
Check out the photos in the product reviews for this one to see how this one looks in action.
The light disperses onto the ceiling creating and amazing starburst pattern.
Is boho your style?  If so, this light may be just what you're looking for to add to the natural elements in your space. 
It features long strings of matte black wooden beads that create a lot of visual interest.
This flush mount is stylish with a casual, earthy vibe that would go great in a bedroom, dining room, kitchen, or entryway.
The Laurel Estate Wide Aged Brio Gold Ceiling Light is a lovely semi-flush mount option. 
The combination of antique gold and clear dangling crystal accents gives this light a classy, refined look.
Moreover, the sheer drum shade will help diffuse the light and give you a nice even illumination.
This is one of my favorite flush moutn chandeliers on this list.  It's has a classic shape and a lot of interesting details without being overdone.
The Sallee 3 Light Flush Mount is finished in an antique black and covered with multi-faceted crystals.
This light is great for a glam, romantic look in a compact package. 
The Boredale will give you a lot of bang for your buck and just might be the perfect addition for small spaces and low ceilings.
This chandlier is perfect for making a big statment in your entryway.
Really, it's great for any room in your home.  Even a glam closet makeover.  It's contemporary style will work well in a number of different decor styles as well.
Glam, transitional, contemporary, and even traditional could integrate this chandelier easily.
This ceiling-hugging design will take any interior to the next level. It's incredibly glamorous and modern with it's crystal and aluminium combo.
The design of the Kate Chandelier also keeps any line of sight open which will make your room feel larger.
Flush mount chandeliers like this one are ideal for adding an elegant touch to a low ceiling without sacrificing headroom.
The Regina Brushed Nickel Wide Crystal Ceiling Light features gorgeous tiers of crystal droplets.
The top is also rimmed with crystal balls.  The bulbs are nestled beneath the dangling strands of crystals illuminating them from within.
This is such a gorgeous piece.  And the brushed nickel finish gives it a sleek, stylish look.
Bright and luxurious, the cylindrical shape of this flush mount light combines luxury and elegance without breaking the bank.
It offers a dreamy and unique look, with an almost turn of the century appeal. 
Adorned edge-to-edge with inlaid crystals in a decorative pattern trimmed in chrome, it brings back an era of glamour and style.
This may be a great option for your if you're into the Art Deco revival.
Almost like an inverted pyramid, the clear crystals of the Moira Wide Crystal Ceiling Light sparkle tremendously.
This beauty is finished in satin nickel and gives off a grand glamour of an era past.
This is another great option if you're dabbling in that art deco style.
The upside-down layer cake shape of this flush mount is much like a traditional chandelier.  however, the shape of the crystals is anything but traditional.
The long rectangular crystal bars almost create a wall of sparkle unlike anything else we've seein in this list.
This style is timeless and contemporary at the same time.
With the show this chandelier would put on it'd be hard for anyone to take their eyes off it.
Whether or not this is a true flush mount or semi-flush mount is debatable, but it's too pretty not to include in this roundup.
I would classify this as a flush mount because it is indeed installed directly against the ceiling.  But the drop down square tier gives it the illusion of a semi-flush mount.
This design is a modern and a meant to make a statement.
The square glass that frames out the dangling crystals is a really unique look.  You'd be hard pressed to run into another person with a chandelier like this in thier home.
This one is a good option for modern glam, contemporary, and transitional interior styles.
Here's another option that utilizes long bars of crystal.
The contrast between these sparkling pieces and the antique black finish makes for a great look.
Conclusion
If  you can't go for the traditional hanging chandeliers, there are always plenty of incredible flush mount chandeliers to choose.
I hope you found this post helpful. If you did, please share it with a friend and follow Dianne Decor on Instagram, Pinterest, Medium, and Twitter for more from me.
To have a copy of my latest posts delivered directly to your inbox, join the mailing list before you go.  I'll send you a copy of my weekly newsletter filled with weekend reads, decorating inspiration, and the latest deals on home decor.
Thanks for reading!