FTC Disclosure - This post contains affiliate links and I will be compensated if you make a purchase after clicking on my links.
*Item received for free for promotional consideration or a sponsored link.
Changing up your mantel is a great way to add seasonal decorations to your home.  In this post, we'll look at 10 methods for designing a spring mantel.
Layered Wreath
Adding decorative spring accents to your existing decor does not have to be a chore.  An easy way to do this is to layer a simple wreath over your existing centerpiece.  Whether it's an oversized clock like in the example below or a big painting; a wreath will help bring it into the current season.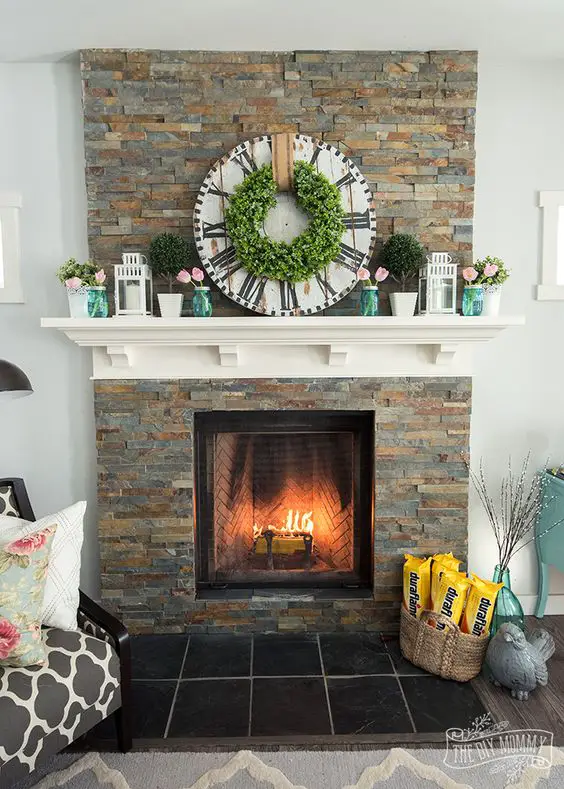 Green, White, and Wood
You don't have to have Easter bunnies or colorful florals to create a beautiful spring mantel.  Sticking to a green, white, and wood color palette is always a good move.
Easter Theme
Another spring mantel decor option is an Easter-themed scene.  A colorful Easter egg wreath, a few bunnies, and some light floral stems like in the example below from AdventuresinDecorating.com is always a win.
The addition of the "spring" pendant banner makes this arrangement a versatile one as well.
Once Easter has passed, you could simply remove the bunnies, swap the current wreath for a boxwood wreath, and you're set until summer.
Buffalo Check & Bunnies
Another Easter-themed mantel idea is this one from simply2moms.com.  If you're looking to make a statement with your decor, this is it.  However, if you're just starting out in your home decorating journey, this may be too advanced.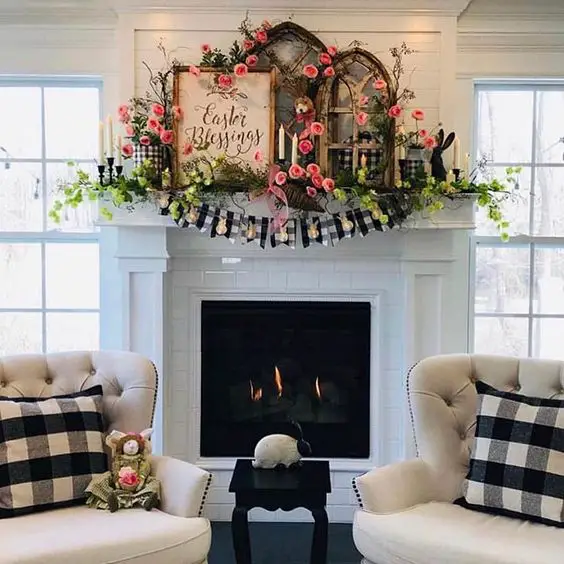 French Country Whimsy
I really love this simple whimsical mantel.  The repurposed window frame with the grapevine wreath layered on top is a great idea.
Roses & Candleholders
If your style is a little more glam, silver candleholders and pink roses on a mantel are a lovely choice for spring.  This mantel from RandiGarrettDesign.com was actually set up for winter, but I think it works perfectly for spring as well.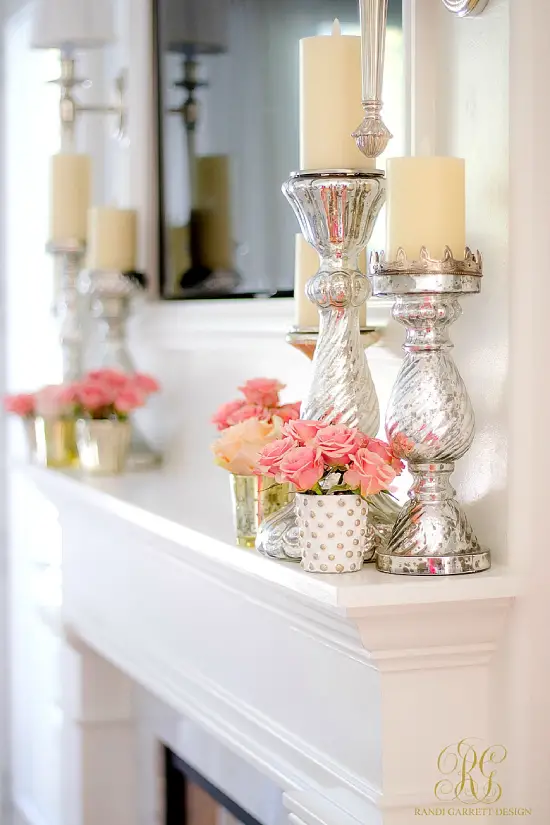 Foliage Inspired
The return of green leaves on trees and bushes is a sign that spring has arrived.  Creating a foliage-themed mantel like the one here from StoneGableBlog.com is a really cool idea.
Another thing I really like about this design is the double wall art installation instead of a singular piece.  It's a refreshing change of pace and helps balance the other decor really well.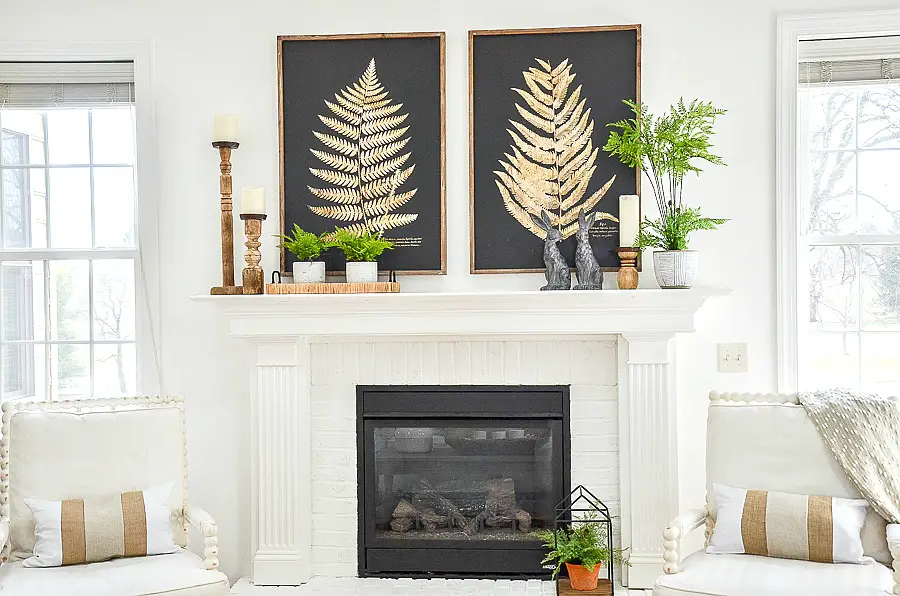 Fireplace Optional Mantel
No fireplace? No problem.  Awonderfulthought.com shows us that a fireplace is totally optional.  This mantel design features a lovely tulip wreath, block letters, and is framed out with some silhouette figures.
The whole thing looks great above a love seat.
Pink and Aqua
Pink and aqua is a great color combo for the springtime.  This mantel features oversized colored glass vases and a variety of pink florals and green ferns.  The white fireplace and the white photo mat around the watercolor landscape really make the colors pop.
Topiary Glam
Last but not least, a topiary glam look is perfect for spring.  Silver candleholders and other silver decorative accents create a great base for greenery.  This is also a great way to repurpose items that you may have featured in your Christmas decor.
That's it for this post.  I hope you found a little spring mantel inspiration.  For more from Dianne Decor join the mailing list to have new post notifications sent directly to your inbox.
Thanks for reading!
decorating
home decor
spring decor
spring mantel