FTC Disclosure - This post contains affiliate links and I will be compensated if you make a purchase after clicking on my links.
*Item received for free for promotional consideration or a sponsored link.
Learning how to store toys in an organized and someone elegant fashion has taken me a lot of trial and error.
A well-kept home is something most adults strive for and work hard to have.  But maintaining an orderly and tidy home becomes a much bigger challenge when little kids and their toys are involved.
Toys can easily take over every room in your home if you let them.  Aside from my kid's designated playroom, I've found toys in the bathroom, in my bed, under my bed, on my desk, under sofa cushions, in the pantry, on top of the washing machine, literally everywhere.
But as a parent, there are ways to keep those piles in check.  The best way to do this is to introduce a storage system that you and your kids can manage to ensure orderliness.
Here are a few ideas for you. 
How To Manage Large Toy Collections
Having too many toys is a real struggle and it can happen in the blink of an eye, especially when you have more than one child. 
Toys are important to stimulate children's motor skills and imagination, particularly educational ones and sensory toys. Toys can also help encourage socialization and bonding moments with parents and peers.
So it's understandable that you wouldn't just want to throw everything away. 
But, large toy collections can sometimes get out of hand and make your home unpleasant to be in.
But, with all the available storage options these days, you should be able to work out a system that is convenient for you and your kids.
Let's take a look at a few.
Establish a toy rotation system  
First up is the toy rotation system.
This is a smart way to liven up your kids' toy selection on a monthly or quarterly basis.
Certainly, you can do this more often if you'd like, but the idea is to give the kids a chance to forget about them for a while.  When you bring them back into rotation it's like they're brand new toys and the excitement and interest have returned.
Keep a set number of toys out at a time and store the excess in a closet, garage, or attic. 
When the kids get bored of the toys they are playing with, that's the time to rotate them out. 
I always know it's toy rotation time when my kids stop playing on their own and start following me everywhere I go for days on end.  
Or, there are toys that are repeatedly left at the bottom of the toy bin.
Before you let your kids pick new toys from storage, have them pick a set number of toys to exchange them for first.  Pack the old ones away before they take out new ones.
This not only teaches kids prioritization; you are able to also determine what kinds of toys your children actually prefer and learn to acquire similar ones for them.
This system works wonderfully for us.  My 4-year-old daughter will sometimes as for a toy from the garage (sometimes she remembers what's out there in the bins, sometimes she doesn't).  Each time she does I'll have her select something from the playroom to exchange in its place.
She has no problem with this and is excited to pick and choose. 
Donate
When your children have outgrown their toys, one way to declutter is to donate. 
Beyond the obvious benefit of freeing up some space in your home.  Donating helps children to realize the value of sharing their blessings.
That being said, be sure to donate only the ones your kids no longer play with and have no serious sentimental attachment.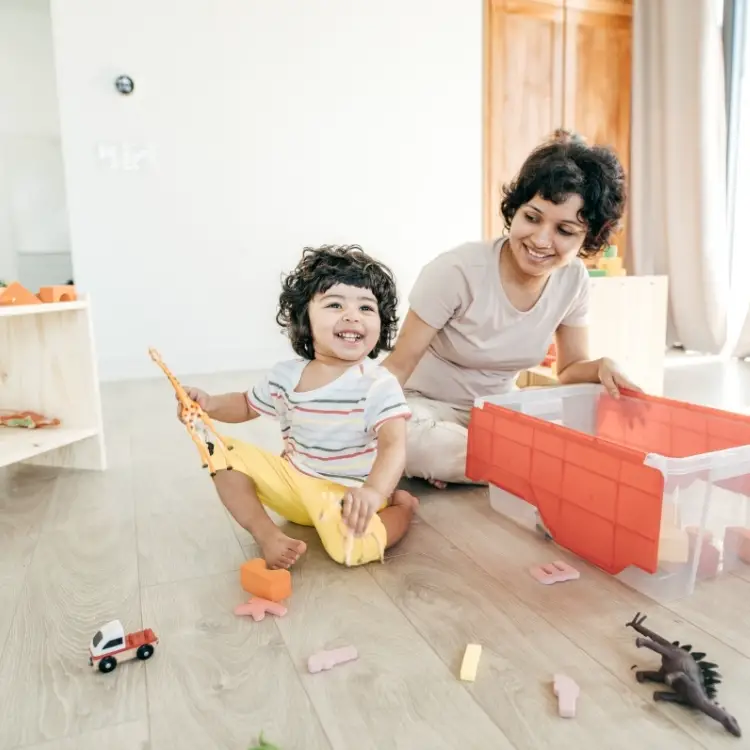 The 1 In – 1 Out Play System 
Another method to teach prioritization and keep toy clutter at bay is the 1 in-1 out play system. 
This teaches kids to put one toy away before taking out the next one. 
Not only does this method clearly indicate your kids' preferences when it comes to the toys they reach for the most, it also keeps the clutter away. 
Just remember, the 1 in – 1 out system is best for kids who are old enough to grasp the point of the exercise.  
I tried this with my daughter at around 2 and it did not work at all.  But now that she's 4 and has a responsibility chart and can sort and pick up toys, it works well.
For even more ideas on how to manage toys in your home, check out the post "Simple Ways to Keep Your Kids' Toys from Taking Over Your Home" on porch.com.  I especially love their idea of establishing "No Toy" zones.
How To Store Large Toys
Large toys can sometimes take up a lot of space and will need their own storage solutions. 
Luckily, there are storage shelves, cabinets, and bins that are affordable and add a nice aesthetic to your playroom. 
One highly rated storage solution is the COSYLAND Extra-Large Woven Storage Laundry Basket.  It's made with pure cotton rope, it's durable, and holds its shape very well. 
Don't be fooled by the name laundry basket.  It can be used for blankets, toys, towels, and even books. 
This basket can be hand washed and air-dried, or put in the washer on a delicate cycle. 
It's soft and firm with the ability to handle a lot of weight.
When not in use, it can be folded to save space and kept away for convenience. 
How To Store Toys With Small Pieces
There are a lot of toys that make use of small pieces, such as Legos blocks, Barbie dolls, and puzzles. 
Frankly, the number of pieces a toy has is a big deciding factor in how many items I let the kids pull from the garage at once.
If we have out the mini ball pits with all the little balls, mega blogs, and legos it is way too much to keep under control.
That being said, there are some smart storage solutions for these types of toys as well.
The drawstring style playmat/bags like the Lay-n-Go 2-in-1 Extra-Large Portable Drawstring Toys Storage Organizer and Play Mat are super popular.
It's made for kids and toddlers and comes in multiple sizes, all the way up to 60 inches wide.  It's perfect for holding lots of small toys and blocks.
I'm not sure if this was originally designed for traveling play dates or what, but it's a fantastic way to clean up quickly and keep everything together.
How To Store Toys You Don't Want To Take Apart
There are some things that you just don't want to take apart.
Whether your child has created a "masterpiece" that they refuse to let you break down, or you've just assembled a complicated dollhouse, you're going to need a good out-of-the-way storage solution.
For these kinds of toys, consider getting an under-bed storage drawer. 
These are usually used to store sweaters or linens under the bed but are perfect for little lego villages and train sets.
The MUSEHOMEINC Solid Wood Under Bed Storage Drawer with 4-Wheels pictured below is made of solid wood and has compartments for easy sorting. 
It has 4-wheels so a kid can easily slide it under the bed and back out again for playtime.
10 Top Rated Toy Storage Bins and Organizers
For the other toys in the playroom, here are the top-rated toy storage bins and organizers that both parents and kids will love. 
With16 bins in total, the Humble Crew Extra Large Toy Organizer can hold a lot of toys. 
The bins are removable for easy cleanup after playtime and BPA-free. 
The shelves are made of sturdy engineered wood construction frame reinforced with steel dowels. 
If your kids have a lot of plushies that need a home, maximize the back of any closet door with this shoe bag. 
Although initially intended to organize shoes, it can organize any category of toys-as long as it fits. 
The top is enforced with a steel bar to prevent sagging and tearing from the weight. Each pocket is double-stitched for durability.
If your kids have a lot of robots, plushies, dolls, or just about anything else that can fit, the clear pockets provide an easy overview of what's in store.
Here's an example of a furniture and storage combo that will look right at home amongst adult decor.
Because of its neutral appearance, it can stay with you as your child grows.  It can evolve from toys storage to books, to clothes, to bedding, and so on. This makes for a smart furniture investment too.
The simple and minimalist design can be matched with many different interior styles. 
A cute storage solution, this one is obviously durable and appropriate for toddlers. Designed
with safety and convenience in mind, it complements any bedroom or playroom.
It features a back panel to prevent items from falling behind the bookcase; the durable poly construction can last for years.
RiverRidge Toy Organizer
This combo organizer provides you with drop-and-go cubbies as well as shelves for books or other toys you want to stand upright.
Clean, simple with a geometric design, it adds functionality to any room. 
The RiverRidge Toy Organizer might be the answer to your storage problem with space for toys, books, and clothing. 
It comes in white and gray making it the perfect neutral addition to your decor.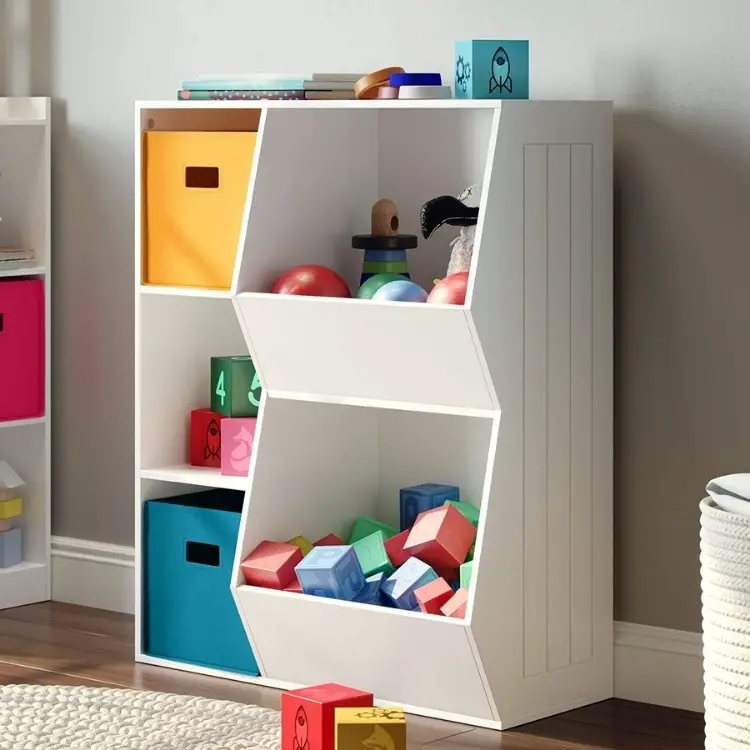 The shelves of the Oundle Toy Storage Bookcase are wide and low to the ground.  This kid-friendly design makes it easy to get everyone involved in putting toys away.
The two bottom bins feature a wide opening for toys of all shapes and sizes. The
label plates are a great bonus to help categorize or assign spaces for toys or children.
To help develop your children's dexterity and memory, puzzles can boost the brain work that
goes with it. 
Puzzle pieces, however, can also be a nightmare to keep track of and store.
I've learned the hard way that tossing a puzzle into the bottom of a toy bin at the end of the day is not the way to go.
To properly store small and large puzzles, you need a bookshelf or something like the Melissa & Doug Deluxe Metal Wire Puzzle Storage Rack.
It's strong and sturdy and can hold up to 12 puzzles or activity boards.
If your clutter problem is more about books than toys, this UTEX Kids Bookshelf and Toy Storage Organizer is a fantastic solution.
It offers the perfect kid-sized height to allow children to see and access their favorite books and toys. 
It's also a good way to encourage little ones to read and organize. 
The three-tier book rack is a great way to display your most-read books, while the lower portions are for toy storage. 
The soft white finish is great for a neutral look that isn't overly kiddie if you know what I mean.
Sturdis Kids Toy Storage Organizer with Kids Toy Shelf and Multi Toy Bins, Perfect Toy Storage Solution
Boy oh boy do I wish I'd put this on my registry.  Unfortunately, toy storage was the furthest thing from my mind at that time.
This all-in-one storage solution for books, toys, and craft supplies from Sturdis will cover all of your kid's needs.
This toy organizer provides easy access through open bookshelves and a combination of 8 plastic bins and a closed cupboard. 
I especially love the extra ledge on top of the tilted bins.  That's something my current toy organizer doesn't have, but I wish it did.  You can always use a little extra storage space.
Conclusion
I hope you found this post helpful.  It's never too early to teach your kids to clean up after themselves.  And it is possible to have stylish toy storage that jives with your adult decor.
Just look for neutral pieces that can blend easily in any interior decorating style.
Don't forget to follow me on Instagram, Pinterest, and Twitter for more from me.  
To have my latest posts sent right to your inbox, join the mailing list before you go.  I'll send you a copy of my weekly newsletter filled with weekend reads, decorating inspiration, and the latest deals on home decor.
Thanks for reading!
how to store toys
toy declutter
toy organization
toy storage