FTC Disclosure - This post contains affiliate links and I will be compensated if you make a purchase after clicking on my links.
*Item received for free for promotional consideration or a sponsored link.
Want to know where to buy Christmas decorations all year round? You've come to the right place.
Today I unapologetically announce that I am a certified Christmas fanatic.
I think about Christmas at least once a week year-round. Whether it's Reminiscing on past Christmases or planning for this year's Christmas, plans and ideas are always swirling in my mind.
And with that constant plotting and planning, I'm always scouting out locations to buy Christmas decorations early.
Now you may not be a certified Christmas fanatic like me, but maybe you're a blogger or an Instagrammer, or a YouTuber and you need to produce Christmas content.
Odds are, you need to do that very early in the season so that you can provide inspiration and ideas for others to decorate.
If that's the case, you may need to get a jump on your Christmas shopping long before things are available locally in stores.
I'm happy to say that this post has got you covered. I've compiled a list of 22 places where you can shop Christmas decor year-round online.
While there are a ton of local seasonal jobs and little mom-and-pop Christmas shops in towns all across the US, this list is focused on those who provide an online shopping option.
So, without further adieu let's get into the list of places where you can buy Christmas decorations all year round.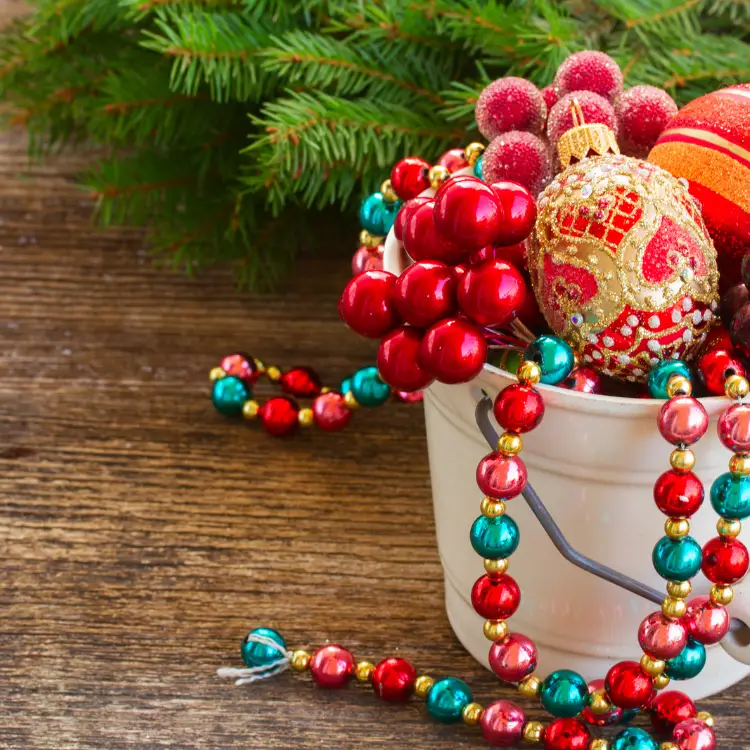 Where To Buy Christmas Decorations All Year Round
If you live in Texas like me, you'll be thrilled to hear that one of the largest Christmas stores in the country is located in Arlington.  Decorators Warehouse has a spectacular display of decor, trees, ornaments, and anything else you need to celebrate the holiday in style.
Trees, trees, and more trees are what you'll find at King of Christmas.  Here you can search for your perfect tree by height, shape, style, and more.  The flocked trees are especially popular.  You'll see them all over Instagram during the holiday season.
If you have a particular theme in mind for your Christmas decorations, then The Incredible Christmas Place is a site you want to visit.  They make shopping their site really easy.  Not only can you browse by product type, but you can also shop by theme.
Some of the themes include, North Pole, Nutcracker, Cabin In The Woods, Sweetest Season, Let It Snow, Farmhouse, Gnome, and more.
Unique tabletop Christmas decorations, mantel decor, and decor storage are plentiful at The Jolly Christmas Shop.  The prices are good and you can get a sneak peek at the new items arriving for the new season on their website now.
The Christmas Traditions website is a great stop if you're in search of vintage decor, figurines, and villages.  You can also shop in-store at their physical location in Canoga Park, CA.
Another great all-around shop for decorations is Christmas Central.  They have a little bit of everything including decorations for other holidays and seasons.
Authentic German Christmas decorations are highly sought after and The Christmas Haus has them.   Their price range is broad.  Most of their nutcrackers and figurines fall in the $120 – $200 range.
That being said, they also have many lovely tabletop accents and ornaments under $20 as well.
Bronner's in Michigan is one of the most well-known Christmas stores in the country.  While I've never visited in person, I can imagine that it's quite an experience.  It's claimed to be the largest Christmas store in the world!
And, as you can imagine, they have absolutely everything you could ever need to deck the halls.
Another catch-all shop is The Christmas Palace.  They have a little bit of everything here.  From trees and garland to villages and lights, you'll find it at this site.
You can also shop in-store at one of their two locations in Florida.
Here's another place to shop for authentic German decor.  Smokers, nutcrackers, and ornaments are all available online.  While Old World Accents did have a retail location, there is a message on their website stating that it has closed as of March 2020.
Robert Moore Christmas Town is another one of those places where it's probably better to shop in store if you can.  However, they do have quite a bit available online in you're out of state.
Christmas villages (Department 56 of course.  I told you they were super-popular!) and nativity scenes are what you'll see the most of on their website.  But, they also have trees, wreaths, and collectible figurines.
The Christmas Loft has a lot to offer.  In addition to a large assortment of the super-popular Department 56 villages, they also have a great selection of lighted decor.
If you're looking for a unique gift or something special for your own displays I highly recommend looking at their "Lights" section.  Grouped in this category among the traditional hanging lights are some incredible lighted decorative accents I've never seen before.
There are wall plug-ins, tabletop orbs, and lighted vases with woodland scenes to name a few.
While St. Nick's has a number of product categories on its website, the only substantial category of items I found was the Villages.  Like the Christmas Loft mentioned above, they feature the popular Department 56 villages and accessories.
Their selection is substantial at over 400 different village items to choose from.
Ornaments, ornaments, and more ornaments.  The Christmas Mouse has thousands to choose from in any niche you can imagine.  If you like to give ornaments as gifts or just like to collect them for yourself, this is the place to go.
The prices are great and the characters are adorable.  I especially like the funny Santa ornaments and the adorable marshmallow smores ornaments.
When I first visited Kathe Wohlfaht I was in sticker shock.  I saw a $400 nutcracker and a $200 beer stein.
But upon further investigation, I found that they offer a little bit of everything and much of their catalog is very reasonably priced.
Their wood-carved items are incredible but expect to pay for that craftmanship.
This site is great if you're looking for a sentimental piece or appreciate authentic German Christmas decorations.
The Shop is home to original figurines and nativities that have been handcrafted by New Mexico artisans.  On their website you can shop by artist which makes it easy to follow and collect items from your favorite creators.
The Fredericksburg Christmas Store website is very much so geared towards collectors.  Instead of browsing their catalog by item type, you browse by collection.
This makes it a bit challenging if you're not already familiar with the artists or collections.  However, if you are, it makes it very easy to browse only those types of items.
Fredericksburg Christmas store claims to have one of the largest collections of Department 56 villages in the country.
If you're looking for the Mark Roberts Collection of Elves and Fairies, this is the place to go.  Culbreth & Company also has a large selection of old world ornaments to choose from.
Okay, look alive for this one.  The German Christmas Shop is also referred to as The German Christmas Shop at Easter.  If you visit their website at the time I'm posting this, you're going to be presented with images of Easter decor and Germany.
However, this shop is based in Pennsylvania and while they do also sell Easter decor, their main collection is authentic German Christmas decorations.
I know, it's a little confusing, but their collection of ornaments is so darn cute I just had to include it in this list.
In contrast, there's nothing confusing about Christmas Lights Etc.  If you're looking for lights or outdoor decor, go to this site.  This is especially good to keep in your back pocket if your local Walmart or Home Depot runs out of the lights you want.
I don't know about you, but my local Walmart locations seem to run out of lights before December even hits, every single year.
If you're looking for a premium, dense, tree that really makes a statement, check out Santa's Quarters.  Expect to pay a bit more for that lux tree, however.  I don't think I saw any trees under $200 on their website.
Santa's Quarters is best for commercial decor, wreaths, and garland.  Their door wreaths come in a variety of styles and are affordably priced.
While you can shop Kringles online, it looks like the kind of place that will have far more available at their physical location in Branson, MO.
If you're not in the area, however, you can shop Department 56 villages, Fontanini nativity scenes, and Jim Shore collectibles.
Conclusion
That concludes this list.  I hope you found it helpful.  While there are other places to shop Christmas decorations online, I wanted to stick to those that specialize in the holiday.
If there are any other shops you think should have been included, please share them in the comments below.
You can find more from me on Instagram, Twitter, Pinterest, and Medium.
To have my latest posts delivered directly to your inbox, join the mailing list before you go.  I'll send you a copy of my weekly newsletter filled with weekend reads, decorating inspiration, and the latest deals on home decor.
Thanks for reading!
all year round
all year round christmas
christmas decor
christmas decorations
early christmas decor
where to buy