FTC Disclosure - This post contains affiliate links and I will be compensated if you make a purchase after clicking on my links.
*Item received for free for promotional consideration or a sponsored link.
If you're planning ahead for your Easter dinner, Mother's Day brunch buffet, or just want to add a splash of color to your dish sets, you're in luck!  Last week I found the most gorgeous blue dinnerware.
The set included a coordinated dinner plate, salad plate, bowl, and mug.  Best of all, each piece was only $1.00!
If you haven't guessed yet, I'm talking about my latest
Dollar Tree
find.  What really stood out to me besides the color which is a rich jewel-toned blue with a hint of green, was the quality.
These dishes have some serious heft to them.  They're solid stoneware similar to Fiesta brand dishes.  They also have a beautiful embossed scrollwork pattern trimming each piece.  They really are lovely.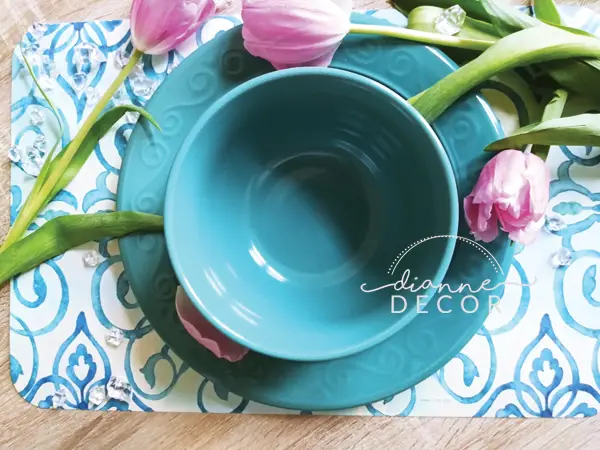 The brand name on the bottom of the pieces says Greenbrier International, Inc. which is popular within Dollar Tree's stock.  The name Royal Norfolk is also present, which I believe is the collection or line beneath Greenbrier.
You can try your luck in the store finding these, but if you want a full set you may be better off ordering from their website.  It's the Turquoise Embossed Scroll Pattern Stoneware.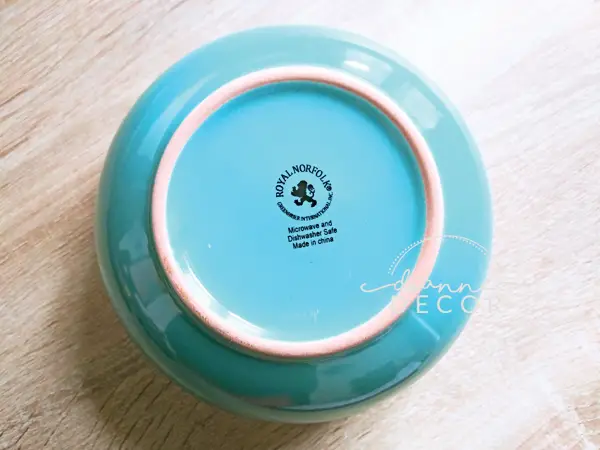 Dinnerware Styling Ideas
Part of what makes a great tablescape is the coordination of the glasses, utensils, and dishes.  For a more casual look, I would pair these plates with a nice glass.
The one shown in the photo below is also found at Dollar Tree.  It's called the Hobster Pressed Glass Cooler.
If you're dressing your table to impress, however, consider using gold utensils and goblets.  It would really compliment the rich tones in the dishes.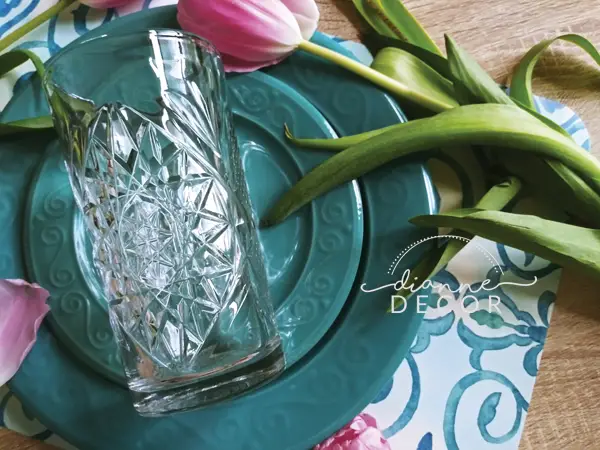 I matched the dinnerware set with a blue swirl placemat that I found on this trip.  The placemat is called the Mediterranean Swirl Vinyl Placemat.  It has a great design and adds interest to the table.
However, it is very thin and doesn't have any grip on its underside, so expect it to slide around.
Overall, $1 is an amazing price to pay for any of these items.  The plates are of great quality and the color and style are gorgeous.
I really like the glass that I chose, but there are other wine/water glasses that look like they were intended to go with this set.  They have a turquoise and yellow flower pattern on them.  I may pick them up just to complete the look.
Recently on Pinterest, I saw a pin for a DIY paper table runner from HappyHappyNester.com.
I'm thinking about using these placemats to create my own version.  If you're interested in seeing that DIY project please let me know in the comments below and I'll be sure to document it.
That's it for this post.  I hope you found this helpful if you're looking for a deal on cheap dishes and glassware.  Please share this post with a friend and follow Dianne Decor on Bloglovin' and Instagram for more content.
Thanks for reading!
cheap dinnerware
cheap plates
decor
dinnerware
dishes
home decor
home entertaining
plates
spring entertaining