FTC Disclosure - This post contains affiliate links and I will be compensated if you make a purchase after clicking on my links.
*Item received for free for promotional consideration or a sponsored link.
Have you ever wanted a quick, handy reference for interior decorating and organization?
Personally, I've been on the hunt for something like this for years.  I want a book that is uncomplicated, yet full of actionable information that will help me address any space.
So many interior styling books are little more than home tours or designer portfolios in print form.
Well, after finally making it all the way through "Beautifully Organized – A Guide To Function and Style In Your Home" by Nikki Boyd, I'm happy to say I've found what I was looking for all along.
In this post, I'll outline 6 things I learned from Nikki's new book.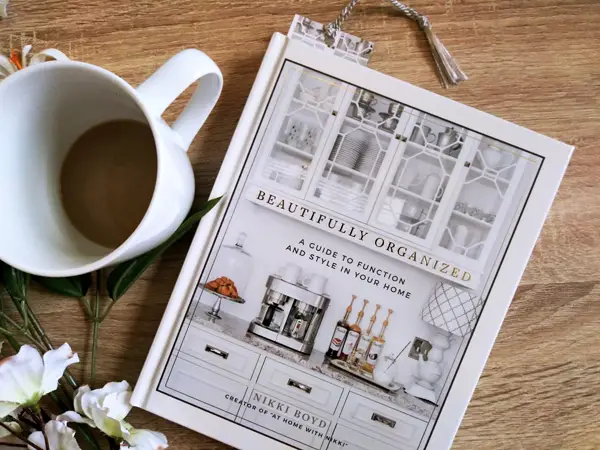 "Beautifully Organized" by Nikki Boyd
When I heard one of my favorite decor YouTuber's Nikki Boyd was releasing a book I was so excited.
I hoped it would be like her video format.  Half home tour and half how-to guide
There was no doubt in my mind that the book itself be beautiful.  If you've ever viewed Nikki's YouTube Channel "At Home With Nikki", you know she has a keen eye for style and her organizational systems are next level.
But, how would the book compare to the videos?  Would the content just be regenerated into a new format?  Would this just be about the organization or would decor factor in as well?
About Nikki Boyd's "Beautifully Organized" Book
As a subscriber to the "At Home With Nikki" YouTube Channel for years now, I am familiar with a lot of the content she's offered thus far.
The book, however, is something truly special.  It is not the same information regenerated.  In fact, I'm fairly confident in my assumption that a lot of time and energy was put into ensuring that it was offering something new.
The book finds a lovely balance between actionable, how-to guides for organizing your space and making it beautiful at the same time.
Each section of the book follows a similar rhythm for assessing, decluttering, cleaning, organizing, and beautifying.
This consistent approach to each space not only makes me feel confident I can do it but gives me a specific approach for any area of my home.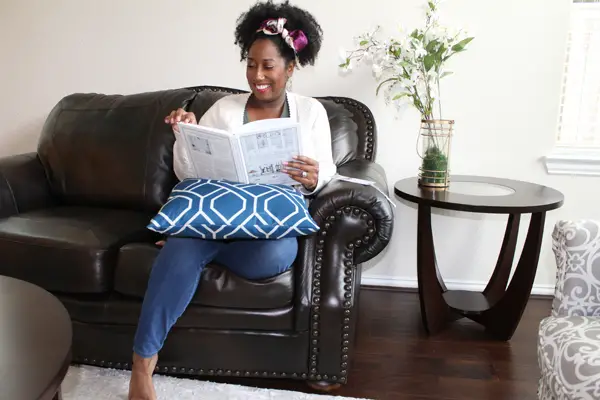 Reading "Beautifully Organized" by Nikki Boyd
6 Things I Learned From Nikki Boyd's "Beautifully Organized"
#1 – Not All Spaces Are Created Equal
Knowing that you need to assess, declutter, and clean your space before you launch into organizing and beautifying is great.
But, the approach to assessing a kitchen versus a bedroom is different.  This is because the needs and functions of those spaces are not the same.
The ability to identify what each space means to you in the bigger picture of your home will inform you on how to begin the process.  Nikki dives into this concept for each and every space in your home, and it's awesome.
#2 – A Room-to-Room Approach
Another idea I really liked from this book is to not only take a room-to-room approach but to tackle it in sessions.
In the past, I've written about decorating over time for budgetary reasons.  I still stand by this, however, by breaking your room makeovers into sessions you'll have less of an unfinished feeling to your space.
For example, sprucing up your kitchen can take a while just from an organizational standpoint.  You may have a pantry, cabinets, under the sink, refrigerator, coffee station, and countertops to tackle.  This likely won't be done in one day.
But, what you can do is just the pantry or just the refrigerator. Your cabinets won't be half done and your fridge won't be kinda organized.
This method also prevents the project from overwhelming you.  This approach allows you to ration your funds and your energy.
#3 – Dual-Function Dining Room
Mastering a multi-functional space can be challenging.  One space that often does double duty is the dining room.
Personally, I remember doing homework and school projects on our kitchen table when I was a kid.  Nowadays I see homes with designated homework stations, home offices, game rooms, etc.  We never had any of that growing up, and I'm sure I'm not alone.
The fact is, not everyone has the space to spread out so luxuriously.  So, a multi-functional space is key.
In the book, Nikki teaches us how to set up a dual function dining room for several different scenarios.  It's a great reference for how to approach this design challenge.
Whether you're combining a dining room with school work, dining with home office space, or dining with a craft room, you'll walk away with a game plan.
#4 – How To Organize An Entertaining Closet
I recently asked on my Instagram page which space I should organize for my first Instagram stories.  Overwhelmingly, the response was for an under the stairs decor closet (not dissimilar to an entertaining closet).
Honestly, I panicked.  This was/is going to be quite the undertaking.  However, I was pleasantly surprised to see this space discussed in "Beautifully Organized".
I've seen Nikki's under the stairs entertaining closet on YouTube and frankly, I was prepared to admire it from afar, but never attempt it for myself.  It looked incredible, but also like something I wouldn't be able to pull off without hiring a professional.
However, the book has offered a quick guide to approaching this space.  And, the timing couldn't be more perfect for me.  I'm going to apply the principals outlined in this book to my seasonal decor and DIY supplies and we'll see how it turns out.  Stay tuned for that reveal.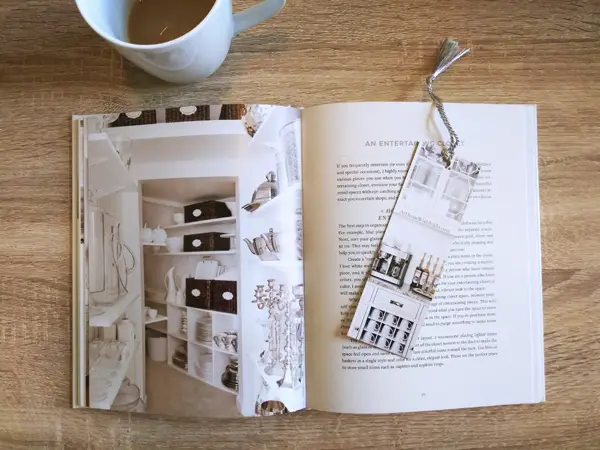 "Beautifully Organized" by Nikki Boyd
#5 – Gifts for Guests
In the entryway section of the book I found a hidden gem.  It was about having a gift drawer in your entryway.
Nikki suggests stocking it with small tokens such as gourmet chocolate bars, mini champagne bottles, or other small items for gifting.  You can use this to make your guests feel extra special or if you missed a birthday or anniversary.  What an amazing idea!
Especially for someone who can barely remember the date of her own birthday.  Yes, that's me.  In fact, this year my husband reminded me by saying, "your birthday is next week, what do you want to do"?  To which I replied, "it is"!
So, if you're like me, you often find yourself in a situation where you've missed a few milestones for others.  Having small items on hand in your entryway like this is genius!
#6 – Defining Beautifully Organized
The final nugget that stood out to me in this book actually came right at the beginning.  It was about laying the groundwork for what beautifully organized means.
The idea goes far beyond style preferences.  It addresses the fact that family structures, priorities, and lifestyle all play a factor in how you define "beautifully organized".
It's important to keep these things in mind when you approach a new design or organization project.  Since function is a huge part of having your home beautifully organized, take into consideration your personal needs over a Pinterest perfect image.
More Tips From Beautifully Organized
These were just 6 small things that stood out to me in this book, but it jammed packed with goodness.  Cheat sheets for decluttering are peppered throughout the book which only emphasizes the fact that this book is intended to be a reference that you will revisit time and again.
Pantry shelf life charts and even makeup expiration charts are both included.
There's even a section on how to create a guest bedroom in a bag, which is so cool.
I'll wrap this post up by stating if you can't already tell from my enthusiasm; this book is an absolute must buy, read, and keep forever.
Whether you're a long time fan of Nikki Boyd's work or have never even heard of her before today, pick this up.
It's available at Walmart, Amazon and Barnes and Noble.  For design, decor, and organization lovers, this really is a must-have item.
Congratulations Nikki!
For more about Nikki Boyd including her book, design firm, and YouTube channel check out her website here.
If you found this post helpful, please share it with a friend and follow Dianne Decor on Bloglovin' and Instagram.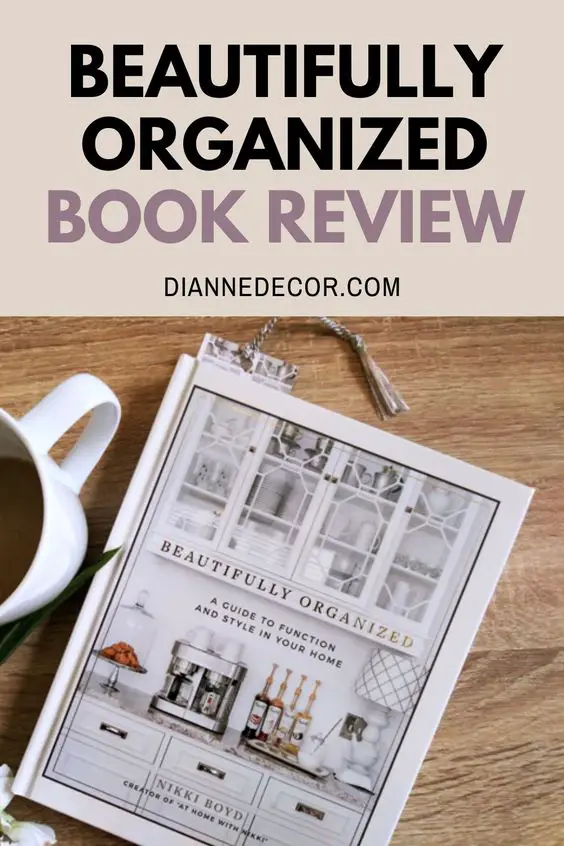 Thanks for reading!
at home with nikki
beautifully organized
decor
decoration
home decor
interior decorating
interior design
nikki boyd
organization