12 Details The Perfect Hostess Would Never Miss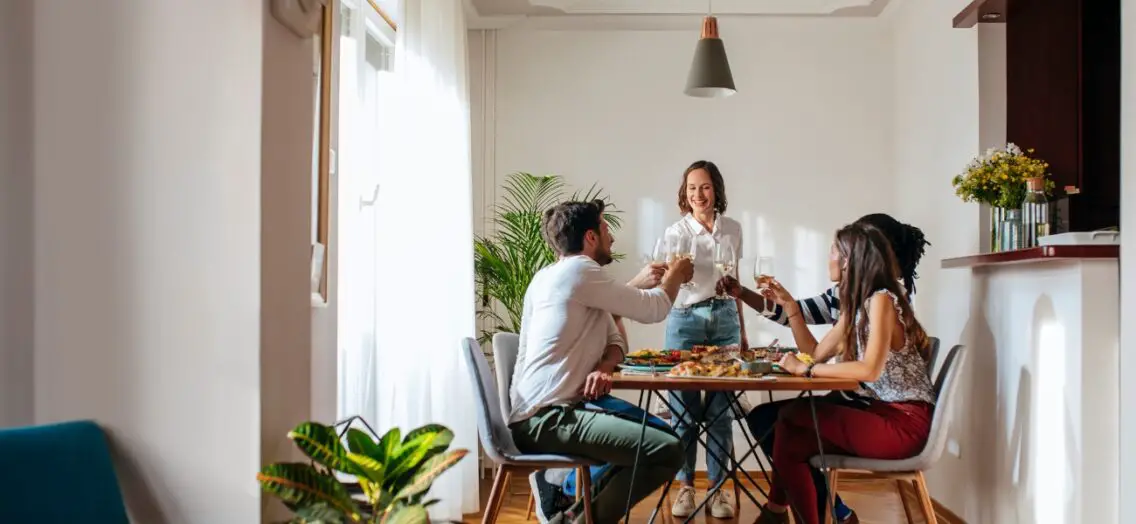 FTC Disclosure - This post contains affiliate links and I will be compensated if you make a purchase after clicking on my links.
*Item received for free for promotional consideration or a sponsored link.
In this post, we'll talk about 12 details the perfect hostess or host would never overlook.
Let me start by saying, this post is not for everyone.
If you're not a hardcore home entertaining enthusiast you'll probably roll your eyes at this list.  But for those of us who revel in the details and get a thrill out of executing the perfect gathering, this is for you.
This list does not cover the basics.
If you're reading this I'm assuming you already know that you should clean your kitchen, plan a menu, clean your bathroom, etc. etc. before expecting company.
If you'd like a quick and easy home prep guide, check out the post Company Ready: 15 Minute Express House Cleaning Routine for Last Minute Guests.
I'd be remiss not to say that you can execute a perfectly lovely dinner party, birthday, or any other gathering without addressing these items.  However, if you want to make sure all of your "I's" are dotted and "t's" crossed, these are the things you don't want to miss.
12 Details The Perfect Hostess Would Never Miss
The following are the things that guests to your home will likely notice whether or not they realize it.
Some people may be turned off by these things, and some may not.
Regardless, they all contribute to their overall experience as a guest in your home.  And, regardless of your entertaining style, I think we can all agree that when we invite people to spend time in our home, we want them to feel welcome, comfortable, and considered in advance.
That being said, let's get on to the list.
#1 – Cleaning Light Switches
Light switches collect dust, fingerprints, and smears over time.  They're also a popular home for germs and bacteria.
(Recommended Read: Healthy Home Tips for Cold and Flu Season)
Giving them a quick clean with a disinfecting wipe is a good idea.  You don't have to do every switch in your home before company comes, leave that for seasonal deep cleaning.  But, do clean the switches in the guest bathroom that your company is likely to encounter.
#2 – Baseboards
This goes hand in hand with the light switch's rule.  Clean the baseboards in the guest bathroom.  You don't notice them standing up, but you will when you're sitting if you know what I mean.
#3 – Toilet Paper Holder
Something that collects lint quickly is the toilet paper holder.
You may not think about it much, but dust it off and see how much nicer it looks.  This little detail is one of those things that seemingly go unnoticed but contribute to the overall experience of your guests.
#4 – Kitchen Island Lighting
This typically comes in the form of hanging pendant lights or chandeliers.  Because they are closer to eye height, it's easy to see dust and debris that has been collected.
Cleaning these before friends stop by is important.  Even if you're not planning to entertain in the kitchen, 99.9% of the time (unsupported fact, a.k.a. my opinion) someone will end up in the kitchen.
They'll want to help you clean up or bring trays to and from the gathering area.  People also like to keep the cook company, especially if they're in a group of new people or aren't interested in the topic currently being discussed by others.
#5 – Catch Trays
The trays I'm referring to are often found with things like a Keurig machine, ice/water dispenser, etc. Make sure they're empty and wiped down.  Water dispensers tend to create hard water stains over time that will make your fridge look dirty even if it's not.
#6 – Cabinet Doors
Spills and splashes happen all the time in the kitchen.  So much so that you may not even notice drips onto your lower kitchen cabinets.
Like the baseboards in the bathroom idea, this is something you usually won't notice until you're sitting.
A guest is more likely to notice because they're likely sitting idle and their eyes are wandering while taking in their new environment.
#7 – Condiment Tops
If you're planning a BBQ style get-together and know you'll be offering mustard, mayo, ketchup, etc. clean up your condiment tops.  These food containers are notorious for getting goopy and gross.
And although we all know this, it's a bit of a turn-off when someone offers you mustard that's all dried and crusty on the top.  It makes you wonder how long it's been hanging around.  So, make sure they're clean and presentable.
#8 – Finger Prints
Stainless steel appliances can collect fingerprints easily.  Even those that claim to be fingerprint-resistant will show a little haze and smudging over time. A quick wipe-down with a water/vinegar mix will keep everything looking polished.
#9 – Microwave
The perfect hostess will always make sure her microwave is clean before guests arrive.  You may not be anticipating anyone using your microwave, but it happens often.
You may want to reheat food for late arrivals.  Someone may want to reheat tea or coffee.
If it's Thanksgiving and people are going for round 2 of turkey and stuffing, they're going to need to use the microwave.  So, make sure it's ready to go.
Put one cup of vinegar-water mixture in a bowl and microwave it for 2 -3 minutes.  This will steam the microwave and soften any baked-on food.  It will be quick and easy to wipe down.  The vinegar will also help to deodorize the inside of the microwave and eliminate any lingering food smells from prior use.
#10 – Empty Sink & Dishwasher
As the perfect hostess, a clean and empty kitchen sink should be one of the things at the top of your list (see FlyLady.net).  Ideally, both your sink and your dishwasher should be empty.
If you find yourself still preparing menu items or laying out snack trays as guests arrive,  you'll likely have dishes, forks, knives, etc. that will get dirty.  An empty dishwasher will allow you to get them off of the counter and out of sight immediately.
Do this even if you're dealing with a hand wash item.  The dishwasher will serve as a temporary home for that item while you're entertaining.
There's nothing more off-putting than a sink piled high with dirty dishes.  Furthermore, watching your host or hostess wash dishes while you sit and chat is awkward as a guest.
As the host, you may not think anything of it and be on autopilot.  But, your guest will have different feelings, I assure you.  And since the number one goal of being a five-star host is to make your guests feel comfortable at all times, make sure you don't set them up for this awkward interaction.
#11 – Bottom of Trash Cans
Extra people mean extra mess and extra trash.  You'll likely need to empty your trash at least once during a large gathering.
Ideally, it should go out after all of the food has been prepped and before guests arrive, but that may not be possible.  If that's the case, you'll likely have to empty it at some point while you're entertaining.  This leaves the door open for the bottom of the trash can to be in view of guests.
Make sure it's clean of sticky goo, crumbs, and any other unidentifiable bits.  Much like the condiment thing.  It happens to everyone, but it's still a turn-off to see.
#12 – Stairs, Rails, and Doorstep
This one is particularly important in the fall and winter months.  Before folks arrive, make sure the steps and/or walkway leading to your home is free of leaves, trimmings, or snow.
Also, make sure you don't have cobwebs forming on your handrails or outside lighting.  This is something that is easy to miss, especially if you're accustomed to entering your home from the garage.
Conclusion
If you tackle this list before your next gathering you can feel confident that you're presenting your home in its best light and feel like the perfect hostess.
After all, living spaces are very telling of the people who live within them.  Your home is a reflection of you and I don't know anyone who doesn't want to present their best selves to the world.
Do you have any other tips or advice to share?  If so, I'd love it if you'd leave them in the comments below.
Follow Dianne Decor on Bloglovin' and Instagram for more content.  And, don't forget to check out our inspiration boards on Pinterest for some fresh decorating ideas.